How Affiliates Can Get Free Traffic From Write.as
In this article, I am going to reveal how I'm able to drive free traffic from Write.as, a website that has a high Domain Rating (>75) as well as a low spam score (3%) at the time of writing.
With over 2.66 million visits to this website, your articles will get a lot of views. 
Moreover, you will be able to connect with other writers of your niche and you might end up generating more relevant backlinks back to your blog/website.
Without any delay, let's take a deep dive into the details and start driving free traffic back to our blogs or websites.
Disclaimer: This article contains affiliate links where I may receive a small commission at no cost to you if you choose to purchase a plan from a link on this page. You can read my full affiliate disclosure in my disclaimer page.
Write.as is mainly used as a content creation platform by bloggers, writers, and students. The main idea by its creators is to provide a suitable environment that is primarily focused on writing content alone.
Write.as aims to make writing and publishing a habit for its users, with no distractions to interrupt their cre­ative flow.
You can write an article under your own name or as an anonymous, which gives you full control over who knows what about you.
Now let's check out its traffic metrics.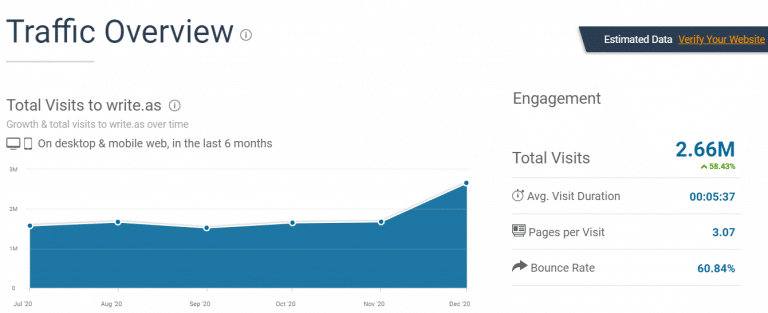 As you can see from the above picture, at the time of writing, Write.as has over 2.66 million visits. 
These statistics are obtained from Similarweb and can be verified here.
I also checked out the Domain Rating of Write.as using the Ahrefs Website Authority checker. I was pleased to find that it has a high rating of 76.

One thing I would like to mention here is that by default, Write.as marks the links inside your articles as 'no-follow'. 
But bloggers have been using this platform for a long time to drive traffic back to their websites.
I will show you how they are doing it and also a way to use your existing articles on this platform. Firstly, we need to create an account at Write.as.
There are three account options to join Write.as: Core, Pro, and Team. I would like to discuss here what you can do as a Core user, which is free.
No doubt, going Pro will give you a lot of advantages over a free user, but for this tutorial, I would like to show you how a Core user can benefit from this platform without spending a penny.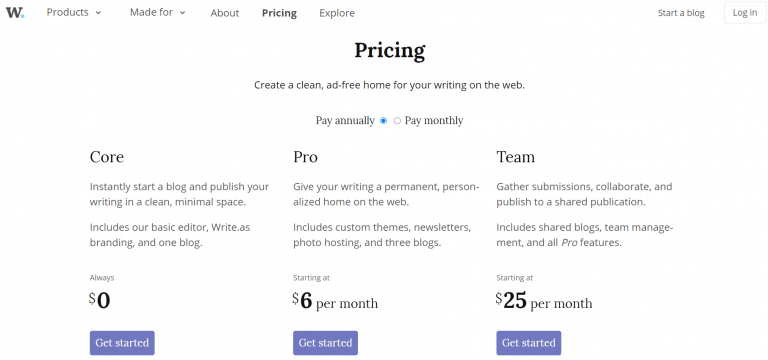 One thing I really like about Write.as is their straightforward sign-up process. Once you click on 'Get started' button, you need to create a username and a password. That's it.
You can choose not to include your email in signup. After signup is complete, you are redirected to a blank canvas, and you can start writing your article immediately.
Be sure to check their writing guidelines first so that you become familiar with the writing syntaxes. These guidelines will show you how to include links, quotes, images, etc.
As a free user, in order to include images in your posts, you have to first upload it somewhere on the web (Google Drive/ Dropbox etc.) and then get the link to share. 
Then you can use the markup syntax provided in the guidelines to include the image.
You can include custom images for your posts to make them more aesthetic. I personally use Canva to design my images, as it is free. You may also choose to hire freelancers for 5$-10$ at sites like Fiverr to save time.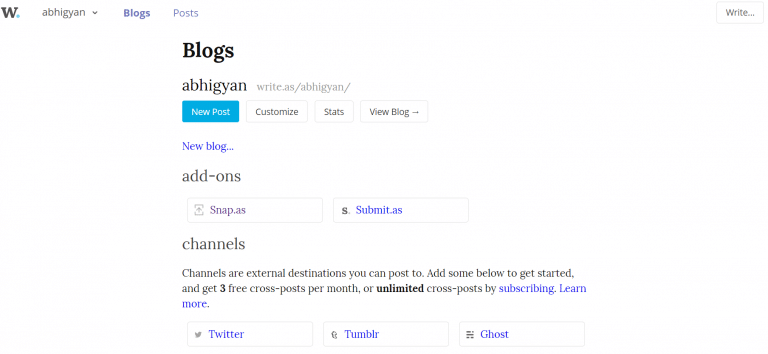 On the left side of the navigation bar, you can choose to write under your username or as anonymous. Once you are done, click on the publish button.
Your blogs should appear on your personal blog page and you can view your articles by clicking on the 'View Blog ->' button.
As a free user, you get 3 free cross-posts per month to Twitter, Tumblr, and Ghost. But you can't use their add-ons without becoming a Pro user. 
As a Pro user, you get 3 blogs with unlimited cross-posts as well as access to Snap.as and Submit.as, which will make image uploading and submission easier. I'll leave that up to you whether you would like to use them.
Write.as Article Submission
If you scroll down and go to the footer, you will see a link 'Read'. Click on that and you will see a page where the articles submitted by writers appear.
Browse through these articles and you can get a feel of what kind of articles Write.as likes to publish. 
You may also end up discovering some new ways to promote your website or blog through your articles.
Our main aim is to get our articles published by Write.as so that they can appear on this list. Needless to say, the higher the number of your articles that get published, the higher will be the traffic back to your website.
This is where the difference between a Core user and a Pro user makes a significant difference. As a Core user, your articles are visible to anyone with a link but as a Pro user, your posts will appear directly in the list.
If you click on the 'Submit' button (top navigation bar), you will see that Write.as occasionally invites submission through their 'call for submission' feature.
If you're a free Write.as user, your submissions will go through a manual review process before being published. Otherwise, as a Pro user, you can publish anonymously without any approval.
Free Export in CSV and TXT Format
Your blog posts can be exported back to your local storage device. As a Core user, you will be able to download your posts in 'csv' and 'txt' formats.
As a Pro user, you are allowed more export options like 'JSON', which you might prefer if your post contain statistics and table data.
Even as a free user, you can connect with other writers and build professional relationships with them. 
You will discover a lot of bloggers who would be willing to share your work and you can do the same for others.
You can join their microblogging community, known as Writing Exchange, to connect with fellow bloggers in your niche.
This is an untapped way that you can build up backlinks quickly back to your website. Just be formal and professional in your approach and never make it sound like a business transaction.
You can also join their forum 'Discuss Write.as'. You can browse the top topics of discussion and start interacting with other writers.
One thing I like to do is to head over the 'Unanswered' category and try to provide helpful solutions to other writers. 
This way, you can build up a rapport and most of the time, a professional relationship is built over time.
Remember that people are likely to help you more if you have helped them first. Providing value is a good way to get their attention and you might end up getting a do-follow link from their blog.
Get Free Traffic By Using Your Existing Posts
As I mentioned earlier, by default, Write.as makes the link in your posts as 'no-follow'. So how are bloggers are able to drive traffic to their blog?
Observe the image below. This has been taken from a post from 'Read Write.as'.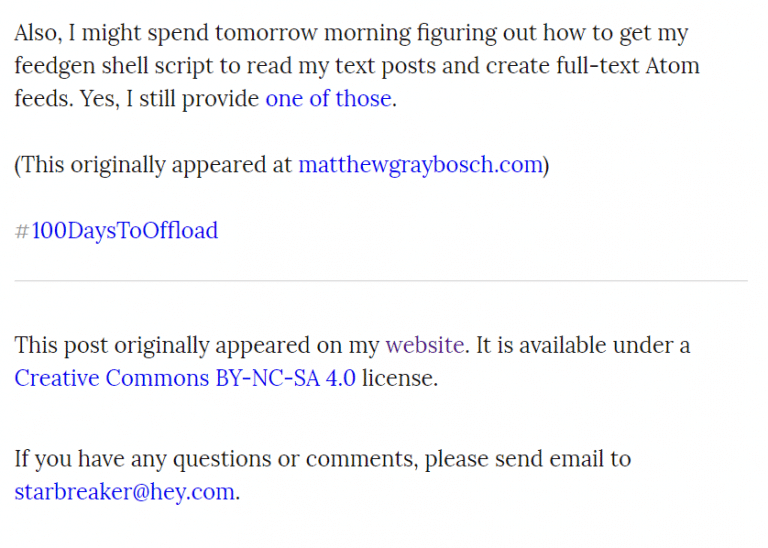 As you can see, writers are taking the help of Creative Commons License' to publish their existing posts in Write.as.
We all know how difficult content creation is, but using this technique, you can use your existing posts and just reuse them at Write.as.
At the end of your article, you just need to link your blog or website and this way readers can visit your blog for similar content.
And you save a lot of time without creating new content as well.
Final Thoughts On Getting Free Traffic From Write.as
In my opinion, Write.as is a gold  mine for bloggers in terms of outreach and increasing traffic. Even as a Core user, you can drive massive traffic back to your blog.
But if you really want to take full advantage of this platform, I recommend that you try to become a Pro member. 
I believe their pricing model is affordable ($9/month, when billed monthly) even for bloggers with a tight budget.
Becoming a Pro will let you publish in the 'Read Write.as' without any delay and your article will be visible to millions of readers instantly.
Using the technique above, I have seen significant results in my traffic and I'm going to be using their service for a long time.
Let us know in the comments how this traffic method worked out for you. Have you used Write.as and did it increase your web traffic?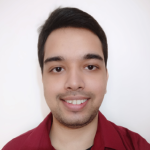 Hi! I'm Abhigyan, a passionate remote web developer and writer with a love for all things digital. My journey as a remote worker has led me to explore the dynamic landscape of remote companies. Through my writing, I share insights and tips on how remote teams can thrive and stay connected, drawing from my own experiences and industry best practices. Additionally, I'm a dedicated advocate for those venturing into the world of affiliate marketing. I specialize in creating beginner-friendly guides and helping newbie affiliates navigate this exciting online realm.