How Affiliates Can Drive Traffic From SiteProNews
We all like free traffic to our websites, don't we? In this article, I will show you how to get traffic from SiteProNews.
One important thing to realise about web traffic is that traffic will always flow from a website with high traffic to a new website or blog.
A high DA website will provide you with more exposure and help you in branding your business in the initial stage.
I personally follow this strategy and I think this is one of the best methods for people with little to no funds for paid advertising. Repeating this strategy over time will surely help you in gaining more traffic.
Even though you might have come across some articles that say guest blogging is dead, but it is far from the truth. 
Guest blogging, when done in the right way, can be a powerful source for traffic generation.
Let me introduce to you a website that invites you to publish your content and in return, it will give you massive amounts of free exposure and it will also give you authoritative dofollow backlinks. 
Disclaimer: This article contains affiliate links where I may receive a small commission at no cost to you if you choose to purchase a plan from a link on this page. You can read my full affiliate disclosure in my disclaimer page.
Sitepronews.com claims that it is one of the web's oldest and most respected webmaster news and resource sites.
They are one of the few sites that promise to promote your articles in its newsletter, which according to them, has over 300,000 subscribers.

Now, whenever I see such claims made by a website, I like to first verify it through other sources. One of the reputed websites that I use for verification is worthofweb.com.
When I enquired about Sitepronews at worthofweb.com, this is what I found. You can verify the report by visiting here. 
Kindly keep in mind that the updated statistics may vary a bit, but it should have similar metrics.
So it can be safely concluded that Sitepronews does show great potential and has the ability to drive thousands of visitors to our articles. 
Now let us see how we can leverage their massive traffic for our benefit.
Determining Your Niche Perfomance
The next thing that you need to do is to familiarize yourself with the existing content of the website. 
It will help you to determine what they like to publish and then if you can make matching content, it's going to increase your chance of getting published.
Sitepronews mainly publishes articles about digital marketing, internet technology, and search engine optimization. 
So if you're in the digital marketing niche or related niches, then you're going to have an edge over other niches here.
That being said, there are a plethora of categories to choose from. If you check out their categories menu, I'm sure you can find something that will resonate to you.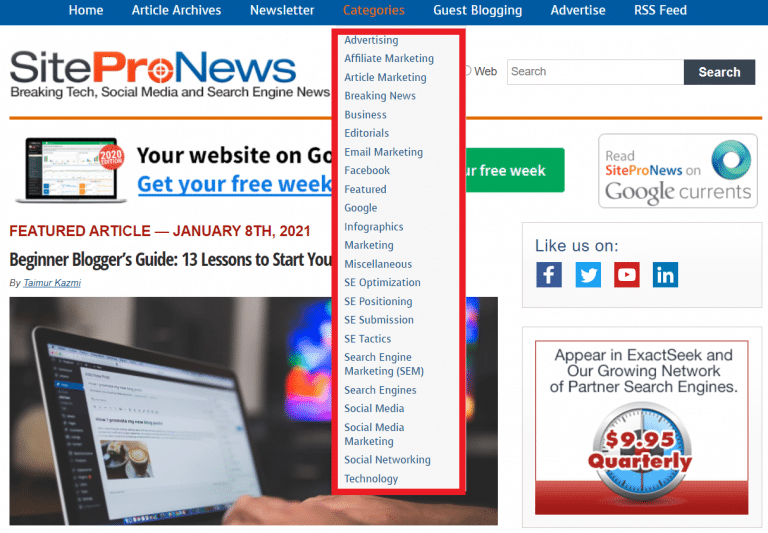 Furthermore, Sitepronews really likes infographics content. So if you can turn your existing blog posts into some form of infographics, then you can drive a lot of traffic to your post by publishing an infographic here.
You can make free infographics by using sites like Canva. You can also choose to hire freelancers for 5$-10$ at sites like Fiverr and save time.
Now, let's take a look at how to submit your articles.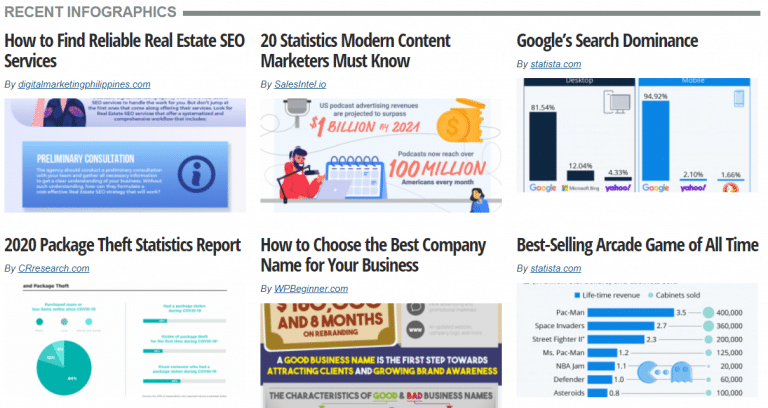 SiteProNews Article Submission
There are two ways to submit your article on Sitepronews:
Sponsored Articles
Exclusive Articles
Sponsored posts are published within 2 business days of receipt. They remain on the SiteProNews homepage for several days. 
Eventually, the article is moved to the appropriate article category where it remains indefinitely.
According to their sponsored post guidelines, you can use up to 4 do-follow links in the article body. 
However, they do not accept any gambling/casino/CBD/Adult posts for submission.
Sponsored articles come at a price. Sitepronews charges $125 per post which can be paid via Paypal.
I believe this price is not ideal for everyone, especially for newbies. That is why Sitepronews offers a free option as well: Exclusive posts.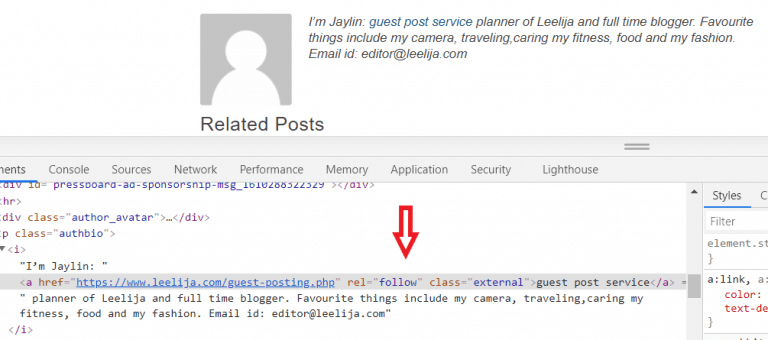 Exclusive posts are free to submit but you can only use no-follow links in the article body. However, you can include up to 2 do-follow links in the Author's bio.
The articles need to be written in MS Word format and should be submitted to "editor@sitepronews.com". 
Just like sponsored posts, they do not accept any gambling/casino/CBD/adult posts for submission.
One thing to keep in mind here is to make sure that your submitted article has not been published on any other website.
Exclusive articles appear on the SiteProNews homepage on the date of publication and thereafter moved to the appropriate article category where they will remain indefinitely.
What I like is that they will post your published article to all of their Social Media accounts, which will give you more exposure and bring more traffic to your blog/website.
The only downside is that Sitepronews do not provide a time frame for review or guarantee for publication for the Exclusive posts submissions.
I have used Sitepronews in the past and I still do it to bring traffic to my blogs. Initially, I used to submit Exclusive articles to their site and it really helped me with traffic.
Since then I have posted a few Sponsored articles and as I expected, the traffic rise is significantly higher as compared to that for Exclusive posts. 
Also, you might observe that Sponsored posts continue to bring traffic for a longer duration of time.
The backlinks I received from them helped in the overall search engine rankings as well. 
Since they have a high Domain Authority as well as a massive list of readers, you will observe a significant increase in your traffic once your articles get published.
It would depend on your business model whether you should go for Exclusive posts or Sponsored posts. However, I would recommend that you should try their free Exclusive post first, especially if you are on a budget.
That being said, once you start generating revenue from your website, you should definitely check out their services for Sponsored articles. 
Those 4 do-follow backlinks per article will bring you a lot of traffic in the long run.
Let us know in the comments how this traffic method worked out for you. Have you submitted a Sponsored post and did it increase your traffic?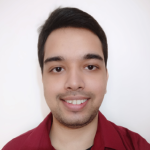 Hi! I'm Abhigyan, a passionate remote web developer and writer with a love for all things digital. My journey as a remote worker has led me to explore the dynamic landscape of remote companies. Through my writing, I share insights and tips on how remote teams can thrive and stay connected, drawing from my own experiences and industry best practices. Additionally, I'm a dedicated advocate for those venturing into the world of affiliate marketing. I specialize in creating beginner-friendly guides and helping newbie affiliates navigate this exciting online realm.