11 Affiliate Marketing Mistakes And Their Solutions
When you are searching for ways to make money online, you stumble upon affiliate marketing and think, "Hey! This looks easy. I can do it too." You get excited and purchase a domain, set up your website, and start promoting products.
But weeks pass and you don't see results. You get frustrated and end up thinking this whole thing was a mistake. But you know that a lot of affiliates are earning thousands in affiliate commissions. So what is it that you are missing?
I see a lot of newbie affiliate marketers make the common basic mistakes that everyone does when they are new to this game. Truth be told, I've done these mistakes myself and have wasted a lot of time and money fixing them.
I hope that this doesn't happen to you. In this article, I'm going to cover eleven basic affiliate marketing mistakes and what you can do to avoid them.
Disclaimer: This article contains affiliate links where I may receive a small commission at no cost to you if you choose to purchase a plan from a link on this page. You can read my full affiliate disclosure in my disclaimer page.
1. Not Taking Full Advantage Of Affiliate Managers
Affiliate marketing is beneficial for both product owners and affiliates. As an affiliate, you can make money online without ever going through product creation and all that it involves.
The product owner or the organisation doesn't have to hire you and save a lot in the marketing aspect. This is a win-win situation for both parties as you can focus on driving sales and the company can take care of their core tasks like addressing customer concerns or managing IT services.
Most companies will assign you an affiliate manager whose main job is to help you succeed in making a lot of sales. You can get extensive data and insights from the affiliate manager which might not be available for general affiliates.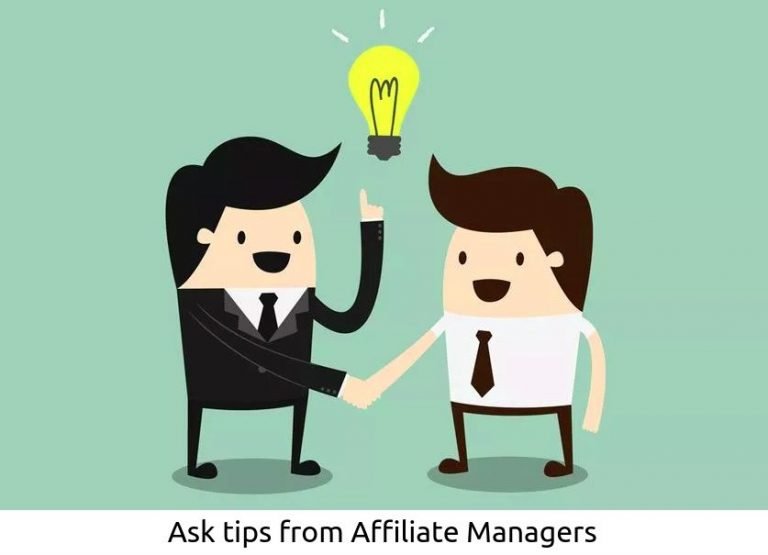 Most new affiliates don't pay much attention to building a relationship with their affiliate managers. And this lowers the chances of getting an edge over other affiliates who are promoting the same product to the same pool of audience.
Once you start building a professional relationship with your affiliate manager, you'll get a better idea of how to convert users more efficiently.
Not only that, you can negotiate to provide you with custom coupon/discount codes for your readers. In some cases, they can also increase the commission percentage for you.
So always make an effort to connect with your affiliate managers and get more details regarding the product you are promoting.
2. Not Picking The Recurring Affiliate Programs
Now I have nothing against becoming an affiliate to physical products. A lot of successful affiliates are generating significant consistent revenue by promoting physical products through their niche sites.
But I believe that promoting digital products that provide a recurring commission is far better than a one-time commission.
This way, your earnings can compound over time. In the future, even if you are getting fewer sales per month, the recurring commissions from previous sales will cover up the differences.
So try to find and join as many recurring affiliate programs in your niche as you can.
3. Promoting Products Just For The Commissions
When we are new to affiliate marketing, we try to promote products that can earn us high commissions. But we don't do enough research to see if that product is really going to solve some problems for your readers.
The thing is promoting any product just for the commissions is not ethical. Ask yourself if you're going to buy the product yourself. Also, find out if the product can genuinely solve problems faced by your readers.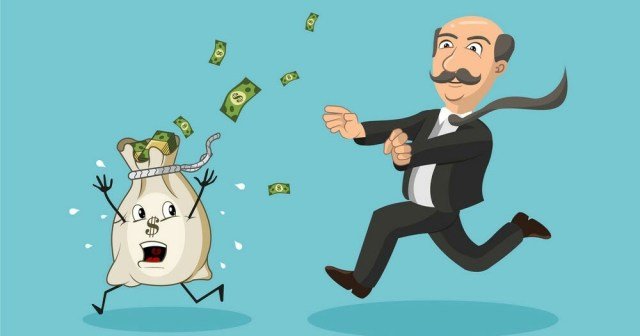 How to find out what problems your readers are searching to get fixed? You can simply run a survey on your website to find exactly that. Or, you can look in your specific niche forums and see what other users are discussing.
Do research to find out if the product has a lot of negative reviews or customer complaints that have not been addressed by the product owner.
Otherwise, you may end up writing a great recommendation for a poor product and lose your credibility as well as readers.
4. Targeting High Competitive Keywords
One of the important things that new affiliate marketers skip is proper keyword research. The problem with targeting high competitive keywords with a new site is that you'll receive little to zero organic traffic to your site.
Make sure the product you are promoting is not an overly common one, which everyone is promoting and targeting the same set of keywords.
You can use free keyword tools like Moz keyword explorer and KWFinder to find long-tail keywords in your niche which have lower competition.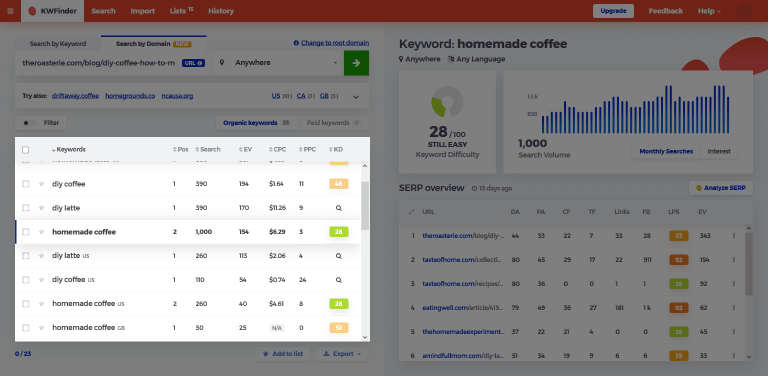 In tools like KWFinder, you can filter the keywords and select the keyword with 'Low Difficulty'. This way you can rank your articles on the first page of Google fairly easily.
Another thing to keep in mind is that whenever you are trying to join any affiliate program, check whether it is a pre-approved program for everyone. Try to avoid those programs as you know a lot of people will be targeting those keywords.
If there is a vetted process for affiliate applications, then it is a green flag as the competition in those programs will be comparatively less.
5. Ignoring Site Loading Speed
Site loading speed is very crucial if you are looking for more traffic and sales. Know that your site's bounce rates increase by 50% if your web page takes longer than 2 seconds to load.
Users are really impatient and they need quick answers. So if your web page is taking 4-5 seconds to load, you will end up losing a lot of potential customers.
Google also penalizes for slower site loading speed and you'll end up losing rankings for your web pages.
You can use free resources like GTMetrics.com to find out the reasons for the slow loading speed of web pages. Make sure your theme is lightweight as well.
There are a lot of free resources that help you with increasing site load speed. If you are using WordPress, plugins like 'Smush' and 'Tiny PNG' to optimize your media files.
'Lazy Load' plugin will display images/videos on a page only when they are visible to the user. This reduces the number of HTTP requests mechanisms and improves the loading time.
For content delivery, I would recommend setting up browser caching with free plugins like 'WP Cache' or 'Litespeed Cache'.
However, caching plugins can sometimes cause issues with your website styling, so I would recommend using them in default settings or reach out to your development team for help.
You can also increase your site loading speed by implementing a CDN (Content Delivery Network) through the Cloudflare WordPress plugin.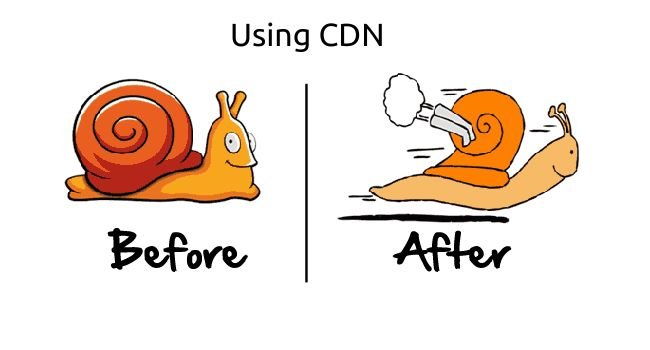 6. Choosing A Free Web Hosting Plan
When you are choosing a web host, make sure to go for a premium one that has data centers available in your targeted traffic region. For instance, I use Interserver for my websites where my primary traffic is from the US.
Make sure you are not using a free hosting service as they are shared by many users and it'll ultimately cost you a lot down the line.
The reason I chose Interserver is that they provide quality hosting and have monthly plans instead of yearly plans which is not common in most web hosts.
As a newbie, I didn't want to invest hundreds of dollars in yearly plans of web hosts but still wanted high loading speed for my website.
With just $4.00/month, Interserver's pay-as-you-go policy helped me. You can check my Interserver review to get more insights.
However, if budget is not an issue for you, then you should surely check out GreeenGeeks' premium hosting.
7. Not Creating High-Quality Content
No matter how stunning your website looks or how SEO optimized your site is, if your article contains low-quality content, then you cannot expect any conversion from it.
Shift your focus from stuffing keywords in the article to genuinely answer your readers' queries. At the beginning of the article itself, mention what the article is about and make sure your readers see the answer to their queries right at the beginning of article.
Then, your readers can keep reading to get more information about the topic of the article.
You should also break your articles into sections with proper sub-headings and avoid writing long paragraphs of text. Long paragraphs usually lead to poor user experience.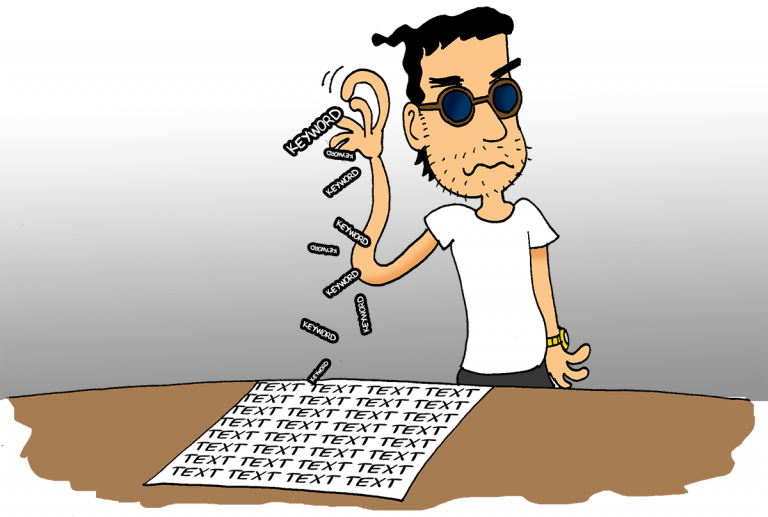 Double-check your grammar before posting as well. You can use free software like Grammarly to ensure that you are creating content without making any silly grammar mistakes. I use Grammarly in all my blogs to improve readability.
Regarding the length of your content, check the word count of articles ranking on the first page of Google.
As a general rule of thumb, try creating articles with at least 1800 words. Google favors long content provided the quality of the article is not compromised.
8. Spamming Affiliate Links Everywhere
Now this is something most new affiliates do. You can see them in new forums, Youtube comments, or in social media just spamming their affiliate links. This actually harms your reputation as an affiliate marketer.
It is really annoying for the audience when they see any affiliate links out of nowhere. And if you think about it, it is really of no use. It is just a waste of time.
The best choice to attain success in affiliate marketing is blogging. Through blogging, you can brand yourself and your readers will trust your insights by becoming your follower. So be professional and never spam your affiliate links.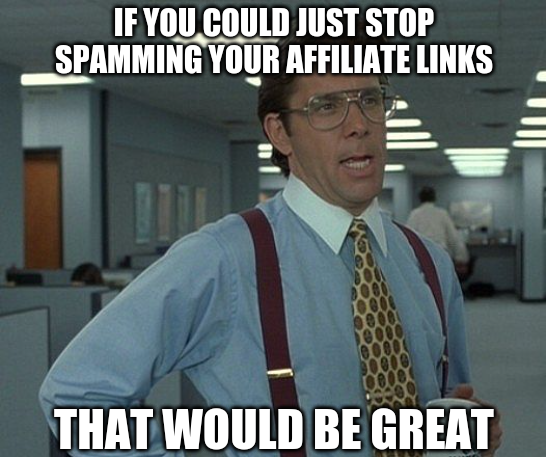 9. Expecting Quick Results From SEO
Make sure to implement SEO right from the beginning. In most cases, new bloggers don't have enough funds for marketing, so SEO is your best shot at getting targeted traffic in the long run.
Optimize the title tag and meta description of the posts. The more your title tag and meta description resonates with your readers, the more likely they are to click through to your page.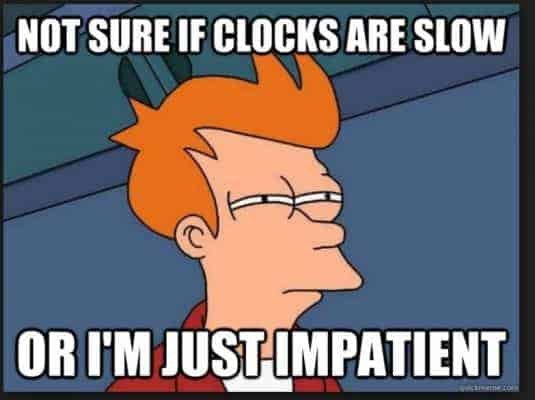 I use a free WordPress plugin called Rank Math and it covers all the necessary on-page SEO checks that you need to implement in your posts. Try to score 90+ for your blog posts on the Rank Math plugin and you can see improvement in your rankings.
However, keep in mind that SEO takes around 6-8 months to kick in. So don't feel frustrated if you have ticked all the checks for SEO and still not seeing significant results within a few weeks. Have patience and keep implementing SEO to all your posts.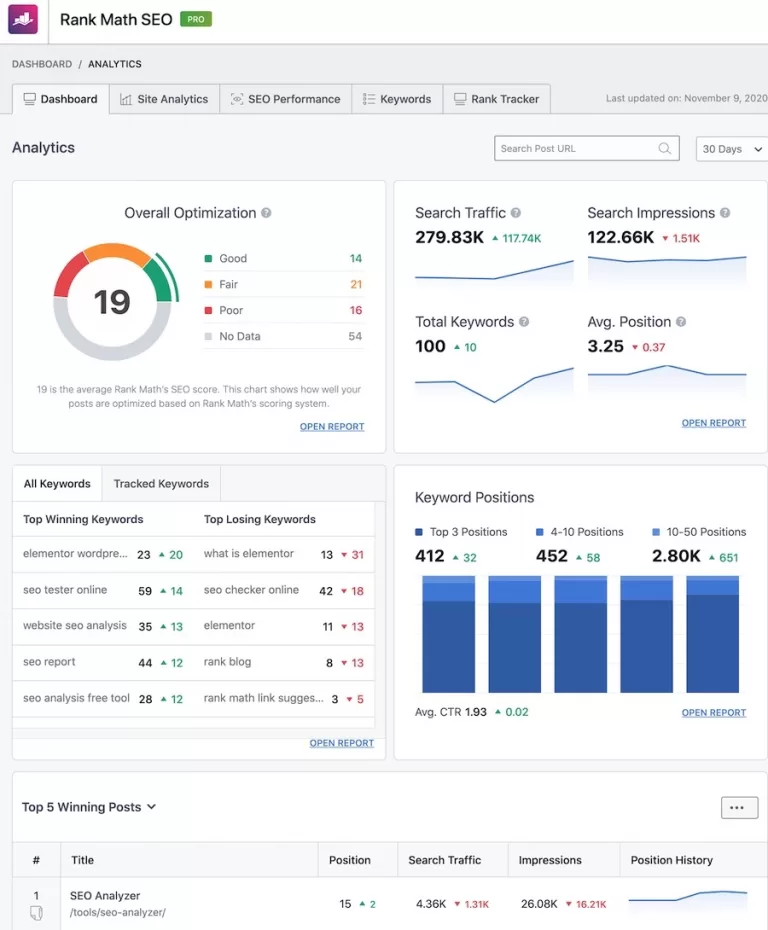 10. Making The Mistake Of Being Complacent
It is a common trait among new affiliate marketers that they feel like they have enough knowledge about affiliate marketing to become successful. Hence, they become stagnant and stop investing in themselves to better adapt to this industry.
Affiliate marketing has gone through a lot of changes in the last few years and it will continue to do so in the future.
Some methods that were successful in the past are obsolete now. Article Marketing on EzineArticles and web 2.0 properties like Squidoo no longer works.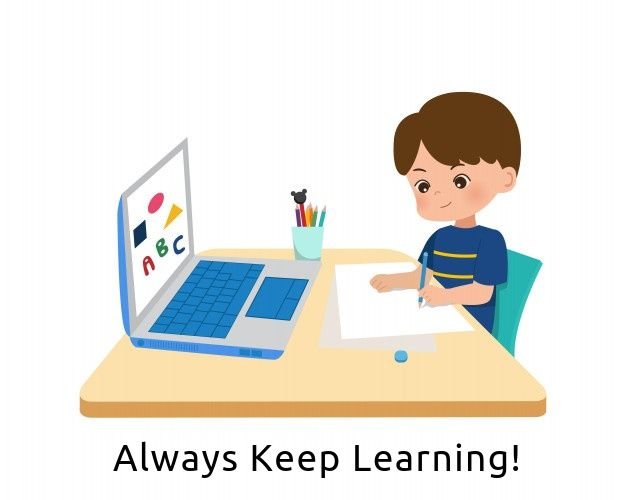 The free courses available online are not very effective in the long run as most of them are not updated regularly, and being free, you can be confident that everyone is following a similar strategy. So you don't really have an edge over the majority of affiliate marketers.
Research the latest training on affiliate marketing and ask someone whom you trust regarding updated affiliate market courses out there.
You can get these by building connections in your niche or simply putting a question in Reddit or Quora. Make sure to check the reviews of the courses online before putting an investment.
11. Relying Just On Organic Traffic
Getting organic traffic from search engines is not easy and SEO needs some time to kick in. Meanwhile, it is not wise just to let your article sit idle.
Google will boost your article rankings if it observes that your article is getting traffic through social media and other ways.
Moreover, you never know whether your article will get ranked as much as you hoped. So it is a good strategy to employ many traffic sources.
You can start by sharing your articles on social media and forums as much as you can.
Don't just put your article link on forums without any context. Do it creatively while addressing a question of forum members.
Next, you should start building links to your post. Reach out to your connections in your niche and ask for their opinion on the article that you wrote.
Don't ask for a link. Ask how can you improve the article. Then show them your updated article and ask them if their readers would benefit from your article.
This way you can sometimes score a link back to your website. Otherwise, if you are more of an introvert and want to shorten this process, you can use a premium link-building service like Links Management.
Using Links Management has improved my posts' rankings significantly in a short span of time, and I am sure it can help you too.
Final Thoughts On Affiliate Marketing Mistakes
My advise to new affiliate marketers is to have patience and not expect overnight success. This is more like a marathon than a race. You'll get there. It requires commitment, knowledge of the products being sold in the market.
You just need to take care of the mentioned issues and have consistent engagement with your potential audience.
I hope this article helped you to figure out the mistakes made by new affiliates. If you feel like adding anything to this list, just put your comments below.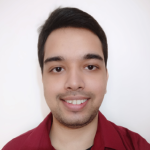 Hi! I'm Abhigyan, a passionate remote web developer and writer with a love for all things digital. My journey as a remote worker has led me to explore the dynamic landscape of remote companies. Through my writing, I share insights and tips on how remote teams can thrive and stay connected, drawing from my own experiences and industry best practices. Additionally, I'm a dedicated advocate for those venturing into the world of affiliate marketing. I specialize in creating beginner-friendly guides and helping newbie affiliates navigate this exciting online realm.