Bluehost Review Sep, 2023 – 11 Pros and 4 Cons You Should Know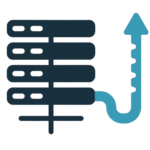 Even though its average uptime is around 99.9%, minor outages are sometimes observed but they are resolved quickly within 15 minutes.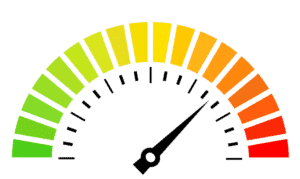 Not the fastest host of all when it comes to server loading, but it offers enough speed to suit the needs of most new bloggers and light websites.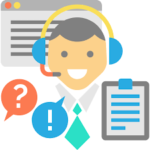 Access to 24/7/365 customer support via numerous platforms, including live chat, emails, phone calls and social media support. But no free site migration.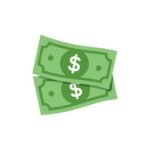 Initial rates are more budget-friendly than most other web hosting companies, but renewal rates are higher.
If you are planning to launch a new website for your business or a new blog, you are likely to be browsing through the internet in a quest to search for a reliable web host. 
And I am sure you have come across a lot of BlueHost reviews on the Internet.
I have been using BlueHost shared hosting service since 2014 to build portfolio websites for local shops and college students.
In my opinion, BlueHost is a one-stop-shop, particularly for newbies looking for budget hosting, as it provides great uptime coupled with affordable pricing plans, and much more.
In this article, I'll give you a much more in-depth and an unbiased overview of Bluehost.
Disclaimer: This article contains affiliate links where I may receive a small commission for at no cost to you if you choose to purchase a plan from a link on this page. You can read my full affiliate disclosure in my disclaimer page.
Over the years, Bluehost has become very popular as it is easy to use and beginner-friendly, which is an excellent trait in a web hosting service.
Also, it has an excellent track record of reliability, uptime, performance, affordability, and its brilliant features that help in your website's growth.
BlueHost started in 1996 as a free hosting company called 0catch.com. The Bluehost you know today was renamed in 2003. 
Currently, it has more than 750 employees and hosts over 2 million websites worldwide.

For over 10 years, Bluehost and WordPress have worked together to maintain support staff that helps out WordPress users. 
Bluehost has also invested in an engineering team which is committed to WordPress core development. 
Thus, Bluehost is able to provide its users with affordable and top-notch WordPress hosting.
Pros: Why I Like BlueHost Hosting
1. Excellent server performance: Average hosting uptime above 99.95%
Never take the risk of losing income and providing a poor user experience by investing in web hosting services that may fail you with their server downtime eventually.
As the industry-standard uptime for hosting companies is around 99%, make sure you always choose a web host which have an excellent track record of maintaining uptime which is above the industry-standard level.
BlueHost hosting performance have impressed me as they are able to maintain 99.95% uptime for my sites throughout the years.
You can see from the images below how BlueHost has been achieving 99.95% uptime consistently for a long time.



Having said that, I've experienced some minor outages a few times in the past year but those issues got resolved automatically within 10-15 minutes.
As per social media reviews, Bluehost's other plans like cloud hosting and dedicated servers provide an uptime of nearly 100%.
However, Bluehost doesn't mention anything specifically on its official website. 
On their network/server uptime agreement page, they have claimed that they resolve most issues related to server downtime within 15 minutes.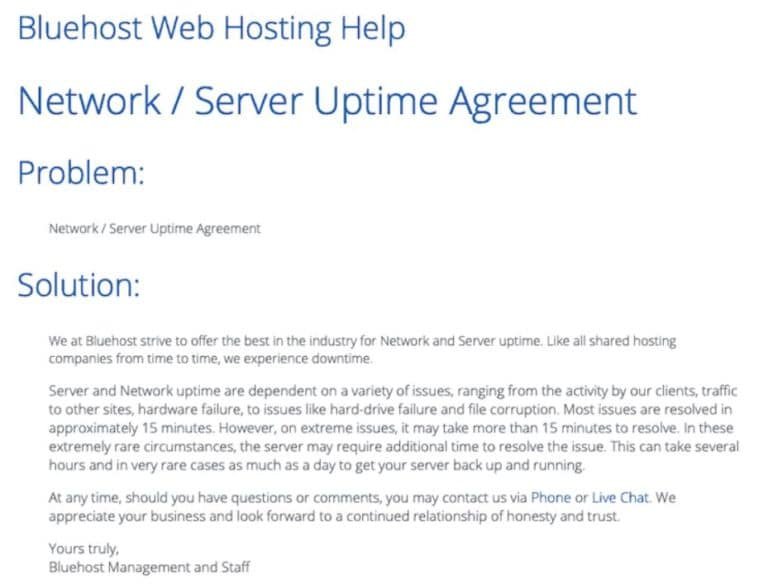 2. BlueHost speed meets expectation
Unlike web hosts like SiteGround, Bluehost isn't the fastest host of all when it comes to server loading, but it offers enough speed to suit the needs of most website owners.
Again, the loading speed will depend on the type of hosting you will be using. For instance, if you go for shared hosting, the load times and response times will be slightly slower than a dedicated server.
I personally consider load times of less than 2 seconds to be decent, less than 1 seconds great, and less than 500 ms to be incredible.
When it comes to server speed, BlueHost performance meets my expectations. With an average Time-To-First-Byte (TTFB) of below 200ms – 600ms on Webpage Test, BlueHost is rated as "A" in most WebpageTest.org speed tests.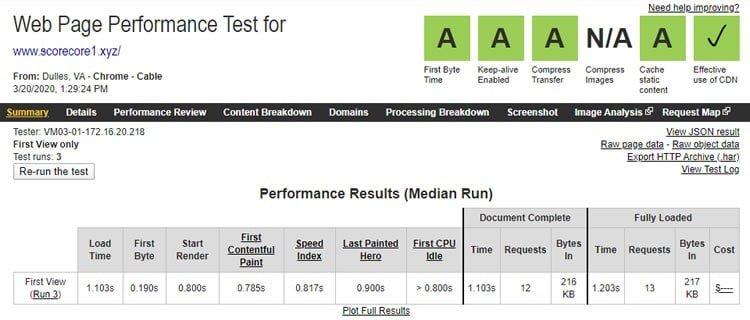 3. 24/7 Customer Support and Comprehensive Video Tutorials
Bluehost provides access to 24/7/365 customer support via numerous platforms, including:
Live Chat
Phone Calls
Emails
Ticketing System
Social Media Support
The easiest way to get in touch with a qualified tech support professional who can help you settle your issues would be use their phone support. 
You can also use the live chat option, but in my experience, the waiting time is comparatively longer in that case.
However, most of the time, you won't even need any professional help.  There are a lot of tutorials and self-documents available online, which makes BlueHost a lot easier to learn and use if you're a beginner.
I was able to solve several simple issues by just reading their articles or watching the video tutorials in the past.
4. Officially recommended by WordPress.org
If your website is built on  either WordPress, BlueHost will be a great fit for you as it is officially recommended by WordPress.
At present, WordPress powers over 30% of the internet and that is why it's safe to say that they do not endorse just about anyone.
With a host that has been in the scene for more than 20 years, you are more at peace knowing that they will readily sort out any issues that you might face and the service will be streamlined.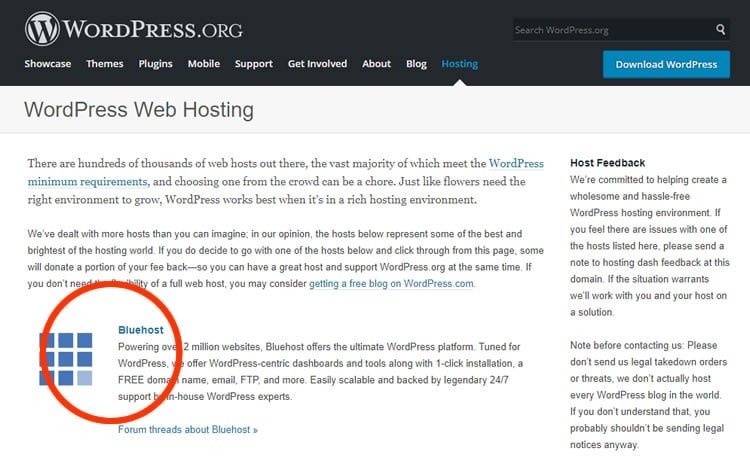 SSL is necessary for websites right now. If your website doesn't have an SSL (i.e. isn't served using the HTTPS protocol), browsers like Google Chrome will display a security warning to people, which may lead to higher bounce rate. 
Security is essential for a website as it not only protects your website from hackers and malware, it also tells your users that their data are safe on your website.
Bluehost's SSL Certificate is powered by Let's Encrypt, and each certificate works to protect the connection between websites and your visitors.
All BlueHost plans come with a free SSL certificate. So rest assured, your personal information, eCommerce transactions, and other sensitive data will be protected at all times.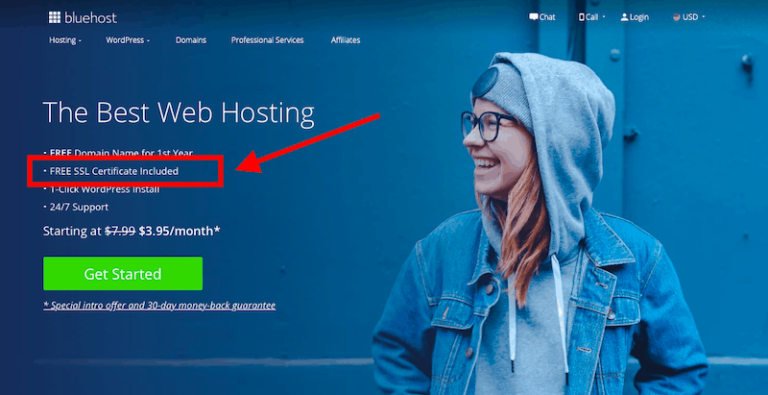 6. Beginner-friendly: Easy to use control panel and helpful emails
My on-boarding experience with BlueHost was great. They activated my account instantly and I also received helpful starter guide via emails everyday for the next 5 days after signup.
The Bluehost control panel is organized and easily navigable, easy for both beginners and experienced webmasters alike. 
They have a clutter-free, user-friendly interface and ensures that all the technical elements are well explained.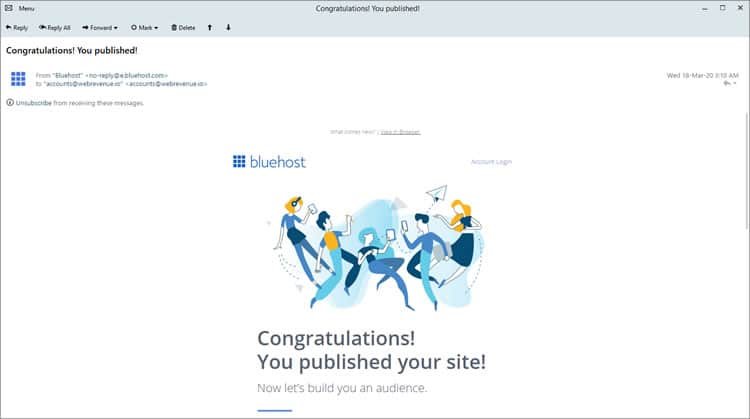 7. Plenty of room for growth
Bluehost has plans for every type of business, small and large. Even if you start by using their cheapest plan, you can always scale up your site without facing the need to change your hosting provider. 
You can drive as much traffic to your websites as possible without paying extra charges.
Also, you can either upgrade to a higher tiered plan, or start a new plan altogether. For instance, you can move from shared hosting to dedicated hosting without facing any downtime during the move. 
See plan details in the following table: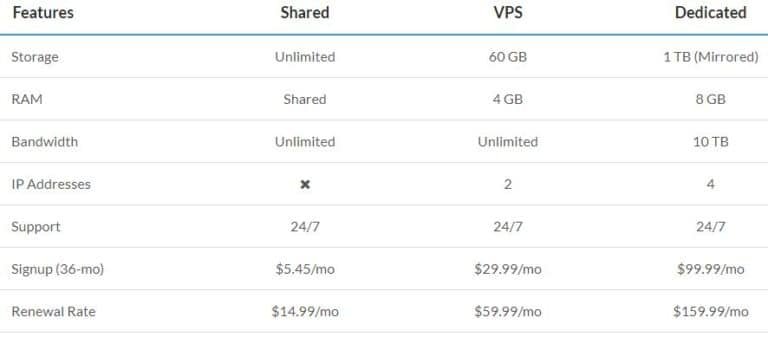 8. Automated Daily Backups
With any BlueHost plan, you get daily backups and website restorations. Many website owners overlook backups until it's too late despite it being a crucial element.
But one thing to note here is that Bluehost's backups are limited, but you can always upgrade if you require or make use of third-party backup software and have no worries about losing your site's data.
9. Effective Security Measures and Resource Protection
BlueHost outsources its security protection to Cloudflare, which has an excellent track record and is a popular name in the content delivery network (CDN) industry.
BlueHost also offers plenty of other impressive security measures, such as SiteLock, daily scans to protect against viruses and malware, constant monitoring on servers, a free SSL certificate, password protected directories, and more.
Moreover, BlueHost's technology identifies the websites that use excessive resources and temporarily reassigns them to isolated systems. 
This feature secures your website performance and further minimises the risks that are usually associated with shared servers.
10. Extensive Plugin Library
BlueHost's application library is very extensive and has various services and software. Apart from enabling ecommerce functionality and CloudFlare, it also allows you to plug your hosting account into Google Apps.
If you wish to add more functionality to your site and hosting account, Bluehost's app library has multiple options.
11. 30-days Money-Back Guarantee
If you are not satisfied with the web host, BlueHost offers a 30-day money-back guarantee; no hidden terms applied. 
However, please note that you will have to cancel within the 30-days of your sign-up to get a full refund.
If you cancel after the 30-day guarantee period is over, then you will gain you a prorated refund for the remainder of your term.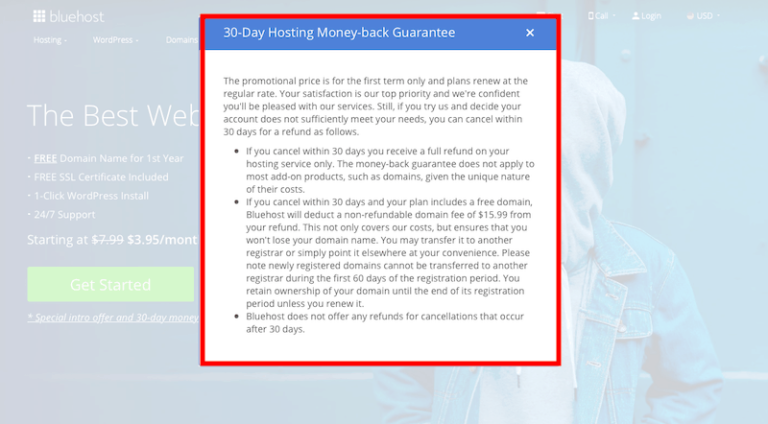 Cons of BlueHost Hosting:
1. Price hike during renewal
All hosting companies increase their prices when it is time for renewal, and BlueHost is not an exception. 
BlueHost offers small introductory rates to secure you as a customer but the rate increases when it comes to renewal.
This is the usual norm that every hosting company implements. After the initial term, you will have to pay a higher monthly rate than you first spent.

Unlike well-known web hosts like SiteGround, Bluehost does not offer free migrations when you move an existing site to its servers.
For migrating your site over to Bluehost, you have to do it yourself or pay a fee for help. At present, the fee to migrate up to 5 websites and 20 email accounts are $149.99.
However, the good part is that BlueHost's technical support experts will take full responsibility to provide you with an uninterrupted site transition.
3. U.S. based data centers only
Unfortunately, Bluehost only operates servers in US-based data centers. While this may be a  good thing for sites targeting traffic in that region, it unfortunately puts others at an disadvantage.
This is particularly so for sites expecting Asia-region traffic as that zone is literally across the globe.
4. Unlimited hosting has strict limitations on Database Usage.
If you read their policies, you'll realize that there are certain limitations to their unlimited hosting, such as the fact they do not provide unlimited space for online storage. And this ends up making their "unlimited hosting" quite limited.
Pricing: How Much Does BlueHost Cost?
BlueHost is considered ideal for shared hosting and optimized WordPress hosting. Also, it offers various other hosting options as well.
To help you make a well-informed decision while building your website, here is a breakdown of the BlueHost pricing plans and hosting packages:
Shared hosting is one of the most popular forms of web hosting in the world. And one of the main reasons behind this popularity is its low cost.
Normally, most of the website owners don't actually scale their sites large enough to require upgrading to a higher level of hosting, so they stick to shared hosting.
BlueHost offers four types of shared hosting packages:
If you are just getting started, then the Basic plan ($3.95/mo) will be an ideal choice for you. You can later upgrade to a more advanced plan once your site grows.
If you like the Plus plan ($5.85/mo), I believe it's more advantageous to opt for the Choice Plus plan ($5.95/mo) instead as both the plans come with a similar pricing structure. 
The Choice Plus plan comes with extra features, which includes more extensive site backups, domain privacy add-ons, and more.
The Pro plan ($13.95/mo) comes with extra benefits, including unlimited bandwidth, website space, support for a limitless number of websites, dedicated IP addresses, including Email protection and Server Script requirements, and more.
Shared hosting is a great option if you are building your website for the first time. 
It is the cheapest hosting option and still comes loaded with enough functionalities and has all the resources required for your site to grow. 
VPS hosting functions just like a dedicated server, but it's much cheaper than having your own physical dedicated server. 
It uses virtualisation technology to build a virtual dedicated server across several shared servers.
You will be still sharing a physical server with other users, but there will be no overlap with other users and your server resources won't be affected in any way.
BlueHost's VPS hosting plans consist of these features:
2-4 Cores
1-2 IPs
2-8 GB of RAM
cPanel and Root Access
A free domain name for first year
30 GB – 120 GB SSD Storage
Multi-server management & File Management
Add-On options like Domain Privacy, SiteLock, SEO Tools,  and more
BlueHost offers three types of VPS hosting packages:
The main difference among the plans is the amount of storage space, bandwidth and RAM. With the higher-level plans, you'll also gain access to more IP addresses.
The Standard plan costs $19.99 per month, the Enhanced plan costs $29.99 per month, and the Ultimate VPS plan costs $59.99 per month.
You can choose your plan according to your storage requirements, and the level of bandwidth that you need.
Website owners who have outgrown their shared hosting should consider upgrading to VPS with time. 
It is scalable, and your site will perform better when you are starting to get more traffic to your site.
Also, this type of hosting provides greater levels of server customization while implementing fewer site limitations and you will get a super-fast SSD storage.
C. Dedicated Server Hosting
Dedicated Server Hosting enables you to rent an entire physical dedicated server. But it comes with a high price tag as it gives you the sole ownership of your server.
However, the advantages are many. You can avail a massive amount of storage, total server customization, top-notch performance, along with an unmatched level of security.
BlueHost offers three types of Dedicated Server Hosting packages:
The Standard plan costs $79.99 per month and is the cheapest dedicated plans. The Enhanced plan will cost you $99.99 per month, and the Premium plan is priced at $119.99 per month.
The significant differences between the plans are the overall storage space, RAM, server speed, and the number of dedicated IP addresses.
A dedicated server is opted by those who require complete control over their server environment. 
Moreover, if you want to customise the server to align with your business needs, then Dedicated Hosting is the best option you have.
It provides you with a ton of storage, RAM and bandwidth – basically an all-in-one top-performing server environment.
Normally, large sites with a high volume of traffic tend to use dedicated servers. Also, if your website requires very high levels of security, a dedicated server is an ideal choice.
For instance, if you deal with sensitive financial information or other personal information, consider using this hosting.
D. Managed WordPress Hosting
If you're planning to build a WordPress site, managed WordPress hosting is the best option to go for. 
This way you will get a hosting environment that is optimised for your website right from the beginning.
Your website's performance level will also increase, and you will achieve higher levels of security.
Managed WordPress Hosting comes with the following additional features as well:
All-in-one marketing center and dashboard
SEO, email marketing, and social media tools
Unlimited websites & domains
No traffic limits
Optimized performance
Unlimited web storage
You will also gain access to an advanced cPanel built only for WordPress, SiteLock security, and a free SSL certificate.
BlueHost offers three types of Managed WordPress Hosting packages:
Every Bluehost's WordPress hosting plans come pre-installed with WordPress, making it easy to build a WordPress site from scratch.
The only differences among the plans lie in storage, RAM, integrated CDN, backup sizes, security, level of SSL certificate, and the total number of visitors allowed per month. 
Managed WordPress hosting is suitable for hosting a WordPress site. 
If you are just getting started with your first WordPress site, then you probably won't require a managed WordPress hosting right away.
A basic shared hosting plan will be enough. But when you start getting enough traffic, you may consider upgrading to this plan.
For a medium-sized WordPress site owner with a fast-growing site, it will be ideal to upgrade to Managed WordPress hosting.
If you're planning to build a website with an eCommerce platform, you can use the WooCommerce WordPress combination, supported by a robust hosting platform.
Bluehost's Reseller Hosting is powered by ResellerClub and is ideal for someone who runs an agency that manages client sites. 
If you already are a Bluehost customer, you will get 35% off.
This plan allows you to provide VPS, dedicated, and WordPress hosting to your clients. You can offer customized control panels, sell over 800 different hosting-related products, 24/7 customer support, and more.
The pricing will vary depending on the type of hosting you want.
5 Simple Steps To Sign Up With BlueHost:
When you visit bluehost.com, you will see a "Get Started" button on their homepage. Click on it to enter information and continue with the signup process.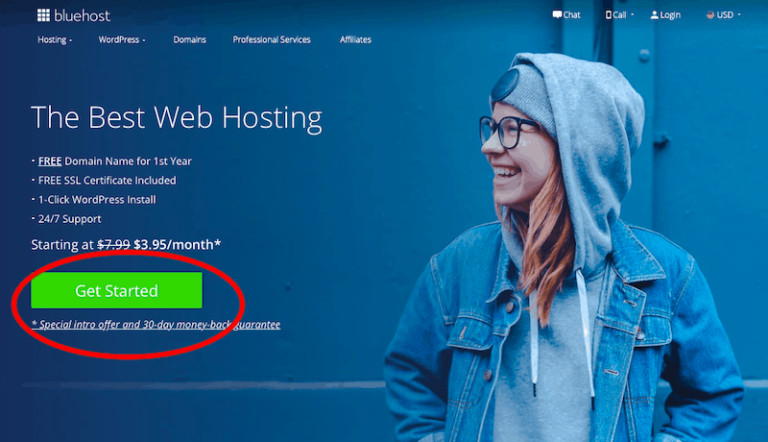 Step 2: Select a Web Hosting plan 
Next, you will be redirected to a new page where you will see 4 Shared Hosting Plans, namely Basic, Plus, Prime, and Business Pro.
The Basic plan is highly recommended for beginners. 
You can host 1 website with 50GB of space. You'll get a free SSL and a free domain for a year alongwith unmetered bandwidth and 5 email accounts with 100MB per account.
The Plus, Prime, and Pro packages will benefit you if you intend to run several websites at once or if you are about to launch an eCommerce site.
These packages enables you to host limitless websites with unmetered space and you get unlimited email accounts with limitless storage space.
Step 3: Select a Domain Name
When you pick a plan, you will be prompted to enter your domain name.
Here you'll see two options:
You can either register a "new domain," which is absolutely free for the first year.
Or if you already own a domain, then choose "I have a domain name" option.
Next you need to decide whether you want your website to be .com, .org, .net, and so on.
Step 4: Enter Your Personal Details
Once you pick your domain name or leave it for later on, you can move to the next step and enter your "Personal Information" to create your account.
Here, you'll have to enter details such as your first and last name, email address, password, country, phone number, and so on.
Next, scroll down to the "Package Information" section. 
Here you need to choose for how long you want your Bluehost package to last (12, 24, or 36 months) and select a few add-ons.
Usual add-ons, include Codeguard Basic, SiteLock Security Find, and Bluehost SEO Tools Start. 
You are unlikely to require all the add-ons, so make sure to choose only the add-ons that align with your needs.
After that, you just have to pick a payment option. Bluehost offers two payment options – via credit card or PayPal.
Step 5: You've Successfully Signed Up With BlueHost
That's it! You have finally signed up for Bluehost.
Now, hit the "Submit" button and Bluehost will send you a welcome email confirming your hosting account. 
It will include all the login details that you need to get started.
Once you are done with the signup process, you can choose to install WordPress from the cPanel.

How To Connect Domain With BlueHost?
Adding Domain During Publication:
For this, you will need to access the Bluehost Builder Editor. Once you are ready to publish your site:
Click the Publish button located at the top right corner.
You will see a progress window pop up. Once published, this will show your temporary URL. 
Click the Choose Domain button.
Select your domain from the drop-down menu. Here the domains assigned to your Bluehost account will show up.

Click the Connect this domain button.
Adding Domain After Publication:
For changing the domain after you've published your site, use the Bluehost Builder Settings tab, once you are signed in to your BlueHost account. 
Open the My Sites tab from the side navigation menu to the left.
Select the Bluehost Builder site you wish to update the name for, and click the Manage Site button.
Open the Settings tab.
Click on the Change domain button.
Select your preferred domain from the drop-down.
Click the Connect this domain button.
After this just publish your website to see your domain changes reflected live.
BlueHost comes with one of the lowest pricing plans in the industry. If you are a startup or a small business, Bluehost is one of the best options you have.
Since Bluehost is scalable, you can always upgrade your plan to a higher plan later as your business starts to grow.
As a beginner, I learned a lot from BlueHost's extensive tutorials and I believe it's ideal for someone who is starting a new blog or creating a portfolio website. The basic plan covers most of the things you require as a newbie.
Along with a free SSL certificate and a free domain for a year, you get a 30-day money-back guarantee, robust security, great customer support, plenty of user-friendly apps, and much more.
Overall, I think BlueHost is an excellent choice for small businesses and website owners who are looking for a budget hosting solution.
It offers tons of the latest security and performance features – NGINX architecture, custom server cache, HTTP/2, SSD storage, etc.
Does BlueHost have a money-back guarantee?
Yes. BlueHost has a 30-day money-back guarantee.
You can cancel your service within the first 30 days and you will receive a full refund.  Beyond that, plans can be cancelled without a refund at any time.
Which BlueHost plan is best?
For beginners, BlueHost's Basic plan offers a good step into the world of web hosting with a low cost of entry and decent features. 
If you require more resources they also have VPS or Dedicated hosting plans.
Is BlueHost good for UK?
BlueHost only operates servers in its own Utah facility which is sub-optimal for those targeting UK-based traffic. 
However, it generally does have a decent server performance overall.
Does BlueHost use SSD?
Yes, BlueHost use SSD storage on all plans.
Should I buy BlueHost CodeGuard?
CodeGuard is included with BlueHost Choice Plus and above shared plans. 
If you're on a more basic plan, it isn't really necessary to pay extra for CodeGuard unless you're considering running an eCommerce site or otherwise processing payments.
Do BlueHost coupons exist?
Normally, you get the best offer (at the time) already when you land on their web hosting plans page.
Do BlueHost have ecommerce features?
Yes, users can either utilize a combination of WooCommerce and WordPress or can install software like Zen Cart, Magento, or OpenCart. 
However, Bluehost does not come equipped to be PCI-compliant on its own. You need to adjust the settings in order to make it fully PCI-compliant.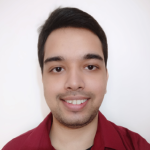 Hi! I'm Abhigyan, a passionate remote web developer and writer with a love for all things digital. My journey as a remote worker has led me to explore the dynamic landscape of remote companies. Through my writing, I share insights and tips on how remote teams can thrive and stay connected, drawing from my own experiences and industry best practices. Additionally, I'm a dedicated advocate for those venturing into the world of affiliate marketing. I specialize in creating beginner-friendly guides and helping newbie affiliates navigate this exciting online realm.