Landingi Review Dec, 2023: Unleashing The Power Of Landing Pages
In the ever-evolving landscape of online business, one thing remains constant: the need for compelling landing pages.
These virtual gateways can either make or break your marketing efforts.
But fear not, because we're here to introduce you to Landingi, a game-changing software that's been making waves in the industry.
In this comprehensive Landingi review, we'll dive deep into its features, discuss its pros and cons, and help you decide whether it's the right tool to supercharge your marketing funnels.
Disclaimer: This article contains affiliate links where I may receive a small commission at no cost to you if you choose to purchase a plan from a link on this page. You can read my full affiliate disclosure in my disclaimer page.
Landingi: A Decade of Landing Page Excellence
Landingi is not just another landing page builder – it's a holistic marketing solution that empowers businesses to create high-converting landing pages, collect leads, and turn them into loyal customers.
With over a decade of experience in the field, Landingi has solidified its position as a premier name in the industry.
It all began with the vision of CEO and Founder Błażej Abel, who was determined to create solutions that would aid businesses in their marketing campaigns.
After years of relentless development and refinement, Landingi was born.
What sets Landingi apart from the competition is its robust set of features that go beyond just creating landing pages.
Let's take a closer look at these features:
Design Magic: Creating Landing Pages with Ease
Landingi's Design feature is where the magic happens.
It's a treasure trove of options that enables you to create not only landing pages but also popups and lightboxes that can work wonders for your conversion rates.
When you embark on the journey of creating a landing page, you're presented with several options.
You can choose to upload your landing page file, order a design from Landingi's professional designers, or kickstart your project by selecting a pre-designed template from their vast collection.
These templates can be filtered according to your goal, funnel stage, or industry, making it a breeze to find the perfect one for your needs.
Before making a final choice, you have the opportunity to preview your selected template to see how both the main and thank-you pages will look.
Landingi's user-friendly landing page editor empowers you to make changes to your chosen template without any coding skills.
Every element on the template can be tweaked to perfection, and you can even add new elements effortlessly.
The drag-and-drop editor on the left side makes it a cakewalk to enhance your page.
You can resize and rearrange elements to fit your layout, and if you need more space, it's as simple as extending the length of your page with a quick drag.
Ensuring your landing page looks great on mobile and tablet devices is crucial, and Landingi offers the tools to make this happen.
Simply click on the mobile and tablet icons to view the page and make any necessary adjustments.
You can even enable the tablet view to provide a different experience for visitors coming from tablets.
If design isn't your strong suit, Landingi provides an option to let their professional designers handle your project.
Keep in mind that these design services come at an additional cost.
Designing a landing page from scratch and importing it to your account will cost you $649, with the price varying based on the complexity of your project.
If you have a design file but need assistance importing it, it'll set you back $239. These services offer flexibility and cater to your unique needs.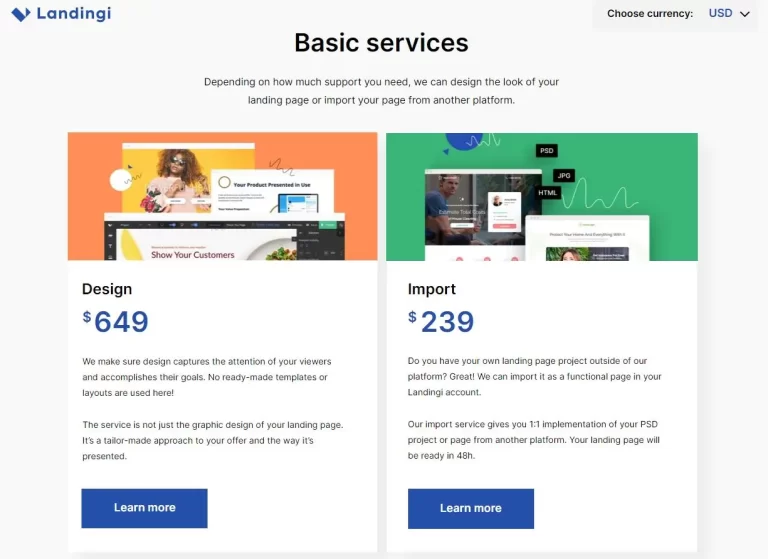 The Launch: Publishing Your Masterpiece
Once you're satisfied with your landing page design, it's time to go live. Landingi allows you to publish your page and create a link using a test domain.
While the page is technically live and accessible, it's advisable to change the domain to align with your branding.
Landingi simplifies this process by offering an option to customize the URL to something more memorable than the default lengthy URL.
For WordPress users, Landingi offers a convenient plugin that allows you to input the generated API token, making it easy to select and publish your landing pages directly to your site.
The beauty of this feature is that it imports all the necessary files to your site's server, ensuring that your page loads quickly without the need to fetch data from Landingi's servers.
If you prefer not to use a CMS, Landingi even allows you to embed your landing page by downloading a PHP file and uploading it to your own server.
This approach bypasses Landingi's hosting options and ensures your page loads seamlessly from your server.
Landingi Integration with Other Tools
If your goal is to collect leads or process payments through your landing page, it's imperative to gather customer information and add them to your email list.
Landingi simplifies this process by offering a plethora of third-party tool integrations.
If you're using a form on your page, you can seamlessly connect Landingi to the email marketing or CRM tool of your choice.
Simply input the API key or token and assign the fields that people will fill out, which will be automatically saved in your email or CRM list.
This integration ensures a smooth transition of leads into your email marketing campaigns and CRM.
The Optimization Journey: Analyzing and Improving
Marketing isn't just about creating content; it's about optimizing it for maximum impact.
Landingi provides a built-in analytics feature that allows you to track and analyze the performance of your landing pages.
You can see how many visitors have clicked on buttons, filled out forms, and more. Armed with this data, you gain a deeper understanding of your visitors' behavior.
To enhance your landing pages and popups, you can utilize the valuable insights from Landingi's analytics.
Implementing A/B testing is a powerful way to optimize your campaigns. With Landingi, creating a variant of your page is a breeze.
You can duplicate a page or select one from a different campaign, make slight changes, and track how these changes affect conversion rates.
Isolating the factors that could impact your campaign's performance and using different versions allows you to pinpoint the elements that work best for your audience.
For more advanced personalization, Landingi enables dynamic text to cater to your target audience.
You'll need to input a code on the page and use the correct parameters to display the relevant dynamic text.
This feature empowers you to tailor your marketing campaigns for different segments of your audience.
Before launching your A/B test, you'll need to determine the distribution of traffic among the variants.
To achieve the best results, evenly split the traffic among each variant.
Landingi also offers an automated conclusion to your tests after reaching a specific number of visitors, days, or conversions.
Based on the test results, you can confidently select the best-performing variant and even run additional A/B tests for continuous optimization.
Landingi Additional Services
Landingi goes the extra mile to offer additional services that can enhance your marketing efforts.
For a flat rate of $149, Landingi can provide you with Newsletter Templates that are designed to seamlessly complement your landing pages.
These templates allow you to maintain a consistent presence in your customers' lives, fostering a stronger connection.
Landingi's design team can create newsletter templates compatible with virtually any email marketing system, ensuring that your communication is both attractive and effective.
In addition, Landingi offers Banner Ad Design services, which are also priced at $149.
These professionally designed banner ads are tailored to perfectly match your landing pages, helping you boost the visibility and reach of your advertisements.
These additional services can significantly increase the overall effectiveness of your marketing campaigns, making Landingi a comprehensive solution for your digital marketing needs.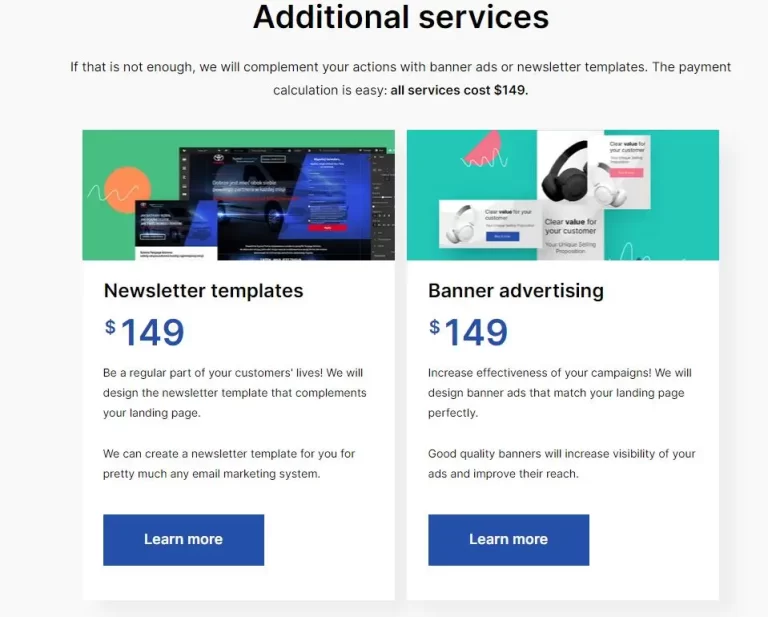 Landingi provides four pricing plans to accommodate a wide spectrum of marketing needs.
Whether you are a small business, a professional marketer, an agency, or a large enterprise, Landingi offers tailored solutions.
Here are the details of their pricing plans.
Lite is available for $29 per month if billed monthly, or at a discounted rate of $290 per year when billed annually, which includes two months free.
This plan is ideal for those looking to build their first landing pages and connect with potential customers.
It comes fully featured with all integrations and allows you to create 10 digital assets, including landing pages and pop-ups.
You'll enjoy unlimited conversions, leads, and contacts, along with up to 5,000 monthly visits. Landingi ensures fast cloud hosting and provides one custom domain with forced SSL.
Professional, priced at $49 per month when billed monthly, or $490 per year with two months free if billed annually, is a popular choice among marketers.
This plan empowers users to personalize their messages and increase conversion rates. It offers all features and integrations, along with the ability to build an unlimited number of digital assets.
You can expect unlimited conversions, leads, and contacts, as well as a substantial monthly traffic limit of 50,000 visits.
Furthermore, fast cloud hosting is included, and you'll have access to 10 custom domains, each with forced SSL.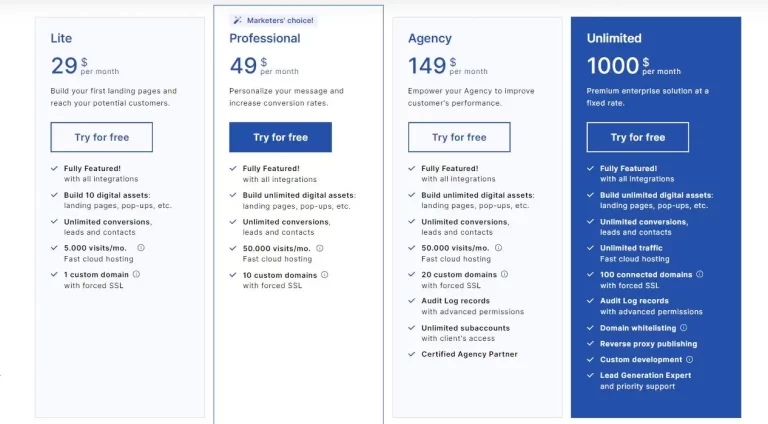 Agency, at $149 per month (monthly billing) or $1,490 per year (annual billing with two months free), is designed for agencies looking to enhance their clients' performance.
It encompasses all features and integrations, allowing you to create an unlimited number of digital assets. With unlimited conversions, leads, and contacts, you have ample room for growth.
The plan comes with a monthly traffic limit of 50,000 visits, fast cloud hosting, and an impressive 20 custom domains, all secured with forced SSL.
Additionally, Agency plan subscribers benefit from audit log records with advanced permissions, unlimited subaccounts with client access, and recognition as a Certified Agency Partner.
For large enterprises and those seeking a premium solution, the Unlimited plan is available at a fixed rate of $1,000 per month.
This plan offers the full spectrum of features and integrations, enabling users to build an unlimited number of digital assets, achieve unlimited conversions, leads, and contacts, and enjoy unrestricted traffic.
Fast cloud hosting is included, along with access to 100 connected domains with forced SSL.
The plan also provides advanced features such as audit log records, domain whitelisting, reverse proxy publishing, custom development, and priority support.
Customers opting for the Unlimited plan receive additional benefits like a free onboarding call, a money-back guarantee, effortless migration, and GDPR compliance.

For those who wish to start their journey with Landingi without any immediate financial commitment, the Free plan is available.
This plan is perpetually free and provides essential features such as one published landing page, one custom domain with SSL, a 500 visits per month limit, data sync once a day, 30-day data tracking, and Landingi branding.
It's an excellent option for those looking to explore Landingi's capabilities and get started with their marketing efforts.
Final Thoughts On Landingi
Landingi is a versatile and powerful tool for creating high-converting landing pages and optimizing your marketing campaigns.
Whether you're a business owner, a marketer, or an agency, Landingi offers the right solution for you.
With its user-friendly drag-and-drop builder, responsive design options, and powerful integrations, it equips you with the tools you need to succeed in the digital landscape.
While there may be a slight learning curve, the extensive features and flexibility of Landingi make it an ideal choice for anyone looking to boost lead generation and sales.
In a world where first impressions matter, Landingi ensures that your landing pages leave a lasting one.
Give Landingi a spin, and you'll discover why it's more than just a landing page builder—it's your ticket to online marketing success.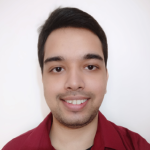 Hi! I'm Abhigyan, a passionate remote web developer and writer with a love for all things digital. My journey as a remote worker has led me to explore the dynamic landscape of remote companies. Through my writing, I share insights and tips on how remote teams can thrive and stay connected, drawing from my own experiences and industry best practices. Additionally, I'm a dedicated advocate for those venturing into the world of affiliate marketing. I specialize in creating beginner-friendly guides and helping newbie affiliates navigate this exciting online realm.