Gumroad Tutorial & Review Dec, 2023: Unlocking the Power of Digital Commerce
In this digital age, creators and artists are no longer bound by the constraints of traditional distribution and sales channels.
Thanks to innovative platforms like Gumroad, they can take control of their work, share it with a global audience, and generate revenue directly from their craft.
Whether you're an artist, writer, musician, or anyone with a digital product to share, Gumroad offers a user-friendly and innovative solution to help you monetize your content.
In this review, we'll delve into the various aspects of Gumroad, from setting up your store to its unique features and the overall user experience.
If you're a creator looking for a versatile and efficient platform to reach your audience and sell your digital goods, keep reading to discover why Gumroad might be the perfect solution for you.
Disclaimer: This article contains affiliate links where I may receive a small commission at no cost to you if you choose to purchase a plan from a link on this page. You can read my full affiliate disclosure in my disclaimer page.
Gumroad is an online platform that empowers creators to easily and effectively sell their digital products, memberships, and services directly to their audience.
It provides a user-friendly environment where creators can showcase and sell their content, such as e-books, music, videos, software, art, courses, and more.
Whether you're an independent artist, writer, musician, or entrepreneur, Gumroad offers a space to monetize your work and build a community of supporters.
It simplifies the entire process, from setting up a storefront to handling payments and customer interactions.
Why Should You Choose Gumroad?
You should consider using Gumroad for a variety of compelling reasons:
1. Versatility for Creators:
Gumroad caters to a wide range of creators, including writers, musicians, filmmakers, SaaS developers, and educators.
This platform offers the opportunity to sell products and content to a global audience, making it accessible to a diverse set of creators.
2. Simple Setup, Powerful Sales:
Gumroad simplifies the process of setting up your digital storefront. Once you've created an account, you can swiftly start selling your products.
Choose the type of product you wish to sell, create your product listing, and your digital goods are ready for sale.
3. Audience Interaction:
Gumroad provides tools for managing your customers and sales.
You can engage with your audience through email communication, drip content releases, growing your follower base, and accessing valuable sales data.
Additionally, Gumroad facilitates tasks such as issuing refunds, updating product content, creating discount codes, and collaborating with affiliates to enhance your sales strategy.
4. Exposure through Discover:
Beyond your Gumroad profile and personal website, Gumroad offers the opportunity to reach a broader audience through Discover, its site-wide marketplace.
Discover recommends your products to potential customers through search, helping you connect with an audience that extends beyond your regular reach.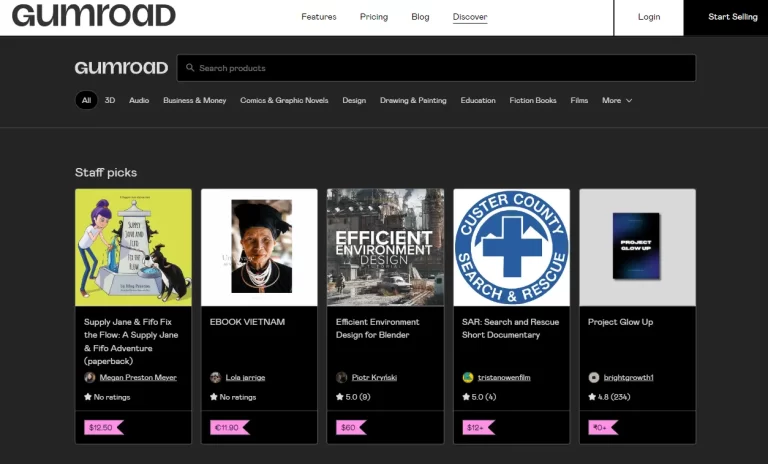 5. Secure Transactions:
Gumroad ensures a secure purchasing environment for both you and your customers. All credit card information is processed in a PCI-compliant environment, certified by an independent auditor.
Every purchase takes place on an encrypted HTTPS secure connection, safeguarding sensitive information. Download links for customers are secure and may require email verification for repeated use.
6. Transparent Fee Structure:
Gumroad's fee structure is straightforward. They only charge a fee when you make a sale, eliminating any extra monthly charges.
This transparent approach allows you to focus on your sales without worrying about hidden fees.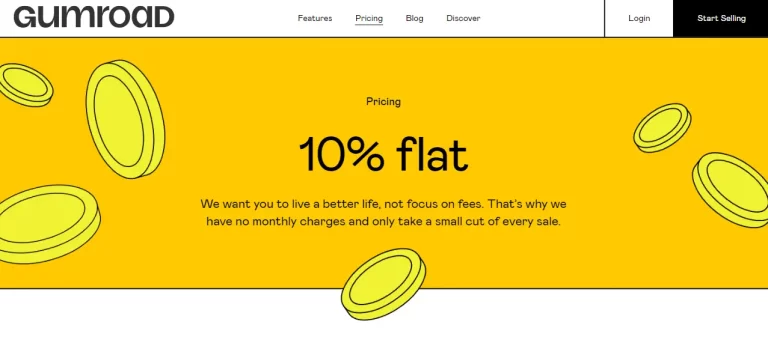 7. Convenient Payouts:
Gumroad offers convenient payment options. If you can receive money through PayPal, you can use Gumroad.
For residents of select countries, weekly payouts to their bank accounts are also available. This flexibility ensures you can access your earnings in a manner that suits your needs.
It's worth noting that if you're unable to receive money through PayPal due to geographic limitations, Gumroad is actively working on alternative payment methods to accommodate creators in such situations.
How To Set Up Gumroad Profile Page?
Setting up your Gumroad profile page is an essential step to effectively connect with your audience and showcase your digital products.
Here's a step-by-step guide on how to set up your Gumroad profile page:
Access Your Profile:
Your Gumroad profile is your home base on the platform. You can access it at username.gumroad.com, where [username] is replaced with your unique Gumroad username.
Alternatively, you can navigate to your profile by clicking on your name and then selecting the "Profile" button on the Gumroad navigation.
Introduction and Bio:
Once you're on your profile page, you can introduce yourself to your audience. This is where you can provide a short bio to let customers know more about you.
Keep your bio concise, typically a sentence or two, as it's more effective than lengthy career descriptions.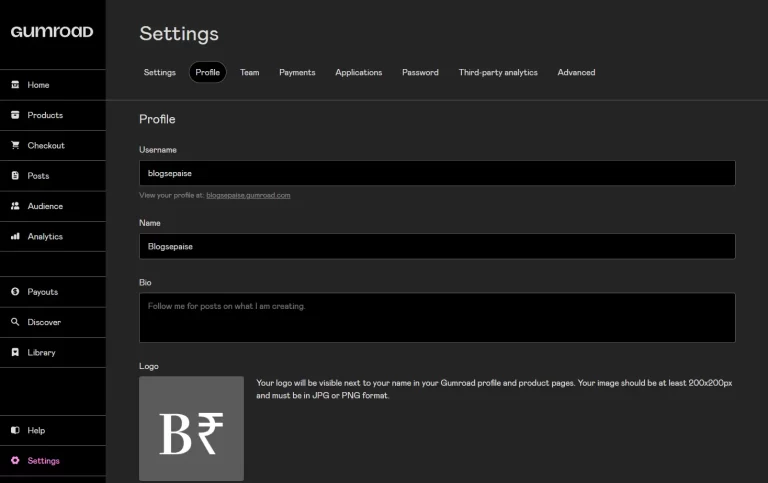 Connect Your Twitter Profile:
You can link your Twitter profile to your Gumroad profile. This will be displayed with an icon on your profile page, allowing your audience to connect with you on social media.
Customize Fonts and Colors:
Gumroad provides the flexibility to customize the visual aspects of your profile.
You can choose from different font styles, accent colors, and background colors to align your profile with your branding.
These settings won't affect the content of your products, only the appearance of your profile, product pages, and emails.
Edit the Products Section:
Once you've added products for sale, they will be displayed on your profile page. You can control the visibility and arrangement of your products from your profile.
Click the three-dot menu on the left to show or hide any published products. You can also sort your products by price, rating, recency, or create a custom order.
To set a custom order, click on "Products," select your Default sort order as 'Featured,' and rearrange the products by dragging them using the six dots on the left side.
Product Filters:
Product filters help customers organize and explore your products easily. They can sort and filter products by rating and file type.
If you prefer not to display filters, you can toggle off the "Show product filters."
Create Product Categories:
To further organize your products, you can categorize them into sections on your profile.
Scroll down on your profile page and click the "+" button at the bottom to create a new category.
Give each category a heading and select the products you want to include. Your changes are saved automatically.
To delete a category, click the three-dot menu for that category and select "Remove."
Highlight a Membership:
If you offer memberships, you can choose to highlight one of them on your profile.
Select the membership you want to showcase under "Highlighted membership" in the Profile settings.
You can also turn this feature off if needed.
To direct people to your highlighted Membership, you can add /membership to the end of your profile URL.
How To Add A Product On Gumroad?
To add a product to Gumroad, you can follow these steps:
Choose a Product Type:
Access your Gumroad dashboard and click on "New product" on the Products dashboard.
Select a product type that suits your offering. You have options like "Newsletter," "Membership," and "Podcast" for subscription-based products with recurring charges.
If your product contains physical goods for shipping, choose the "Physical good" product type.
Set a Price:
Determine the price for your product. You can set it as free or anywhere up to USD 5,000.
If you want to allow customers to pay what they want, you can add a '+' to the product's minimum price, such as " $5+".
Click on the currency sign to select your preferred display currency. Note that this choice cannot be altered once the product is created.
Regardless of the display currency, all charges are processed in USD.
Describe Your Product:
Provide a detailed description of your product. You can style it inline, add images, quotes, code blocks, or even embed videos.
This description helps potential customers understand what they are purchasing.
Gumroad automatically generates a unique URL for each product. If you want a more memorable URL, you can customize it.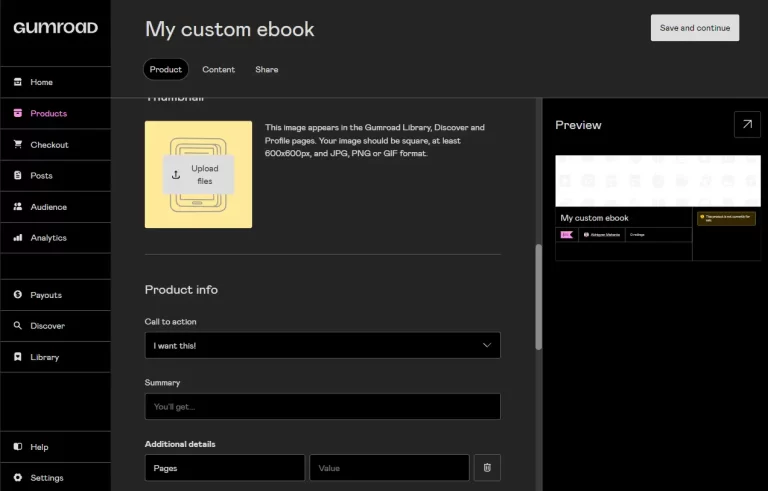 Provide Additional Product Info:
You can choose a "Call to action" from the provided options, though custom call-to-actions are not currently supported.
Add a summary and additional details about your product, which will be displayed below the call to action on the product page.
Integrations:
If you wish to integrate your product with external services like Circle or Discord to invite customers automatically, you can explore the available options.
Add Content to Your Product:
Go to your product's "Content" tab and begin adding your content.
You can upload files, stamped PDFs, code blocks, and embed videos with custom thumbnails.
These can be available for download or streaming, depending on your preference.
Pages:
You can organize your content into easily digestible categories using "Pages."
Create pages for various types of content, such as introductory instructions, downloads, video, audio, terms/refund policy, or any other category you need.
To create a page, click the "Create page" icon in the editor toolbar, give it a name in the left-hand column, and repeat the process if needed.
You can also delete or rename pages as necessary.
File Uploader:
If you are using the old file uploader view, you can upload files from your computer, add files from other Gumroad products, import files from Dropbox, or add links to external websites.
Custom Delivery:
If you prefer delivering files via an external site, you can use the "Redirect to a URL after purchase" feature in the "Content Delivery" section and provide the URL.
Versions:
Versions allow you to sell different sets of content, offer varied software access levels, or optional added services within the same product at different price points.
You can set up versions to cater to different customer needs.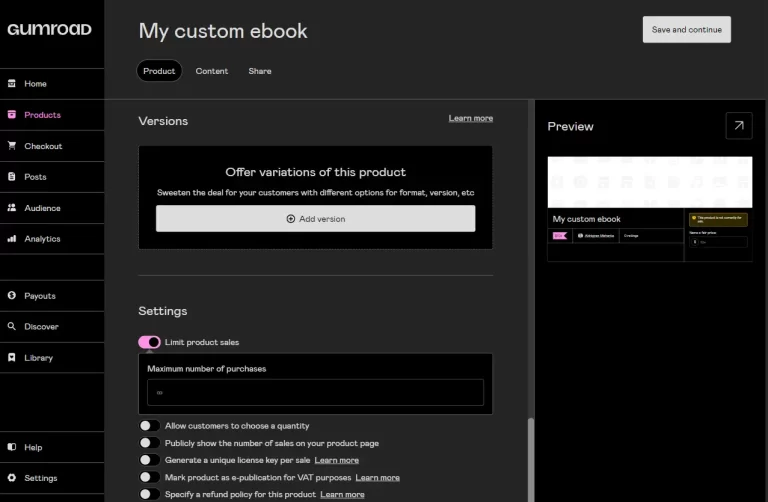 Test and Publish:
Before making your product live, it's advisable to customize your product's checkout flow and test it from the customer's perspective with a test purchase.
Once you are satisfied with your setup, click "Publish" at the top of the page.
To make your product visible to all, go to your Profile page (username.gumroad.com) and add the product to a section.
Remember that you can always make changes to your product by accessing it from the Products dashboard.
Does Gumroad Allow Multiple Accounts?
Yes, you can have multiple accounts on Gumroad.
In fact, Gumroad allows you to create as many accounts as you'd like, and these accounts can be linked to the same bank or PayPal account for receiving payouts, depending on your location.
However, there are some important guidelines to keep in mind.
Each Gumroad account must be associated with a unique email address, meaning you cannot use the same email for multiple accounts.
Additionally, Gumroad does not permit the sharing of Twitter or Facebook logins across different accounts.
If you've connected your Twitter or email account to one Gumroad account, you cannot use the same credentials for another account.
In essence, Gumroad does not offer multiple logins for the same account.
Suppose you wish to share your Gumroad account with someone else, such as an accountant, assistant, or partner.
In that case, both parties will need to use the same login credentials or be added to your team on the platform.
One important consideration is the transfer of products, customers, sales and payout history, posts, workflows, affiliates, and analytics from one Gumroad account to another.
Unfortunately, due to technical limitations, Gumroad does not support the transfer or combination of such data.
This means that if you want to use a different Gumroad account, you'll need to recreate everything from scratch.
However, when it comes to transferring purchases from one email address to another, Gumroad does provide a solution.
You can contact Gumroad's support team by clicking the "Contact Us" button and provide the following information:
All the email addresses associated with your purchases.
The email address you want to designate as your primary Gumroad account.
Is There A Mobile App For Managing Gumroad?
Yes, Gumroad offers a mobile app that allows you to manage your Gumroad account and products on the go. Here's what you can do with the Gumroad mobile app:
Dashboard Access: The app provides access to your Gumroad dashboard, where you can monitor your sales, revenue, and customer data.

Product Management: You can add and edit products, including their descriptions, pricing, and delivery settings directly from your mobile device.

Real-Time Notifications: The app sends you real-time notifications about sales, new subscribers, and other important events related to your Gumroad products.

Customer Communication: You can communicate with customers, answer inquiries, and provide support through the app's messaging features.

Analytics: View detailed analytics and sales data, helping you make informed decisions about your product strategy.

Promotion: Promote your products and special offers to your audience directly through the app.
The Gumroad mobile app is available for both iOS and Android devices, making it convenient for creators to manage their Gumroad account while on the move.
How To Sell Physical Products On Gumroad?
To sell physical products on Gumroad, you can follow these steps:
Create a Physical Product:
Log in to your Gumroad account and go to the Products dashboard.
Click on "New product" and choose "Physical good."
Provide a product description, upload a cover and thumbnail image, and include any digital content associated with the product.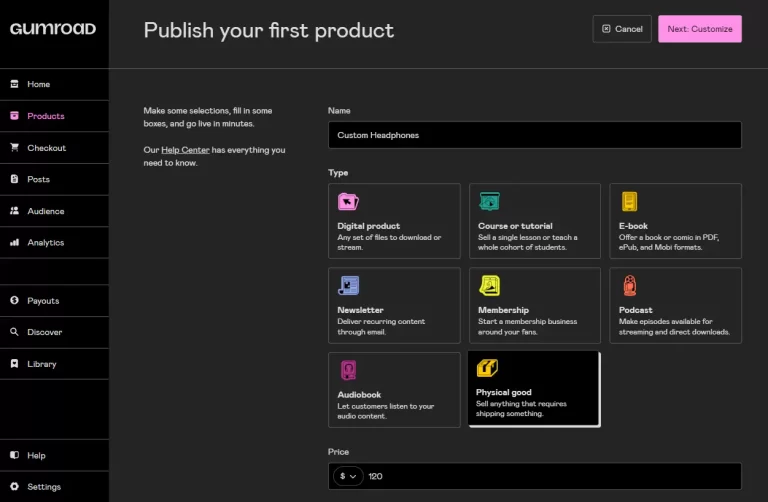 Collect Sales Tax:
If you're selling physical products in the United States, you can manually collect sales tax.
It's essential to familiarize yourself with tax regulations and consult a local tax professional to ensure you're compliant with tax laws.
Add Variants and SKUs:
If your physical product comes in different variations (e.g., sizes, colors), you can set up variants.
Scroll down to "Versions" and click "Add variant." Enter the variant name (e.g., "Color," "Size") and available options (e.g., "Red," "Blue" or "Medium," "Large").
Click "Manage inventory and SKUs" to automatically generate unique SKUs for each combination of versions.
You can specify a custom SKU and set quantities and additional costs for specific variants.
Reassign a Customer to a Different Variant:
If a customer selects the wrong variant during checkout, you can reassign them to the correct one from the Audience dashboard.
This doesn't affect the customer's payment; it only updates their selected variant.
Manage Shipping Destinations:
Click "Add shipping destination" and choose a destination country and associated shipping price.
You can add multiple shipping destinations, and only customers in these selected countries will be able to purchase your product.
To make your product available worldwide, add the "Elsewhere" destination and set a shipping price accordingly.
Specify shipping costs for individual items and additional costs if customers buy multiple items of the same product.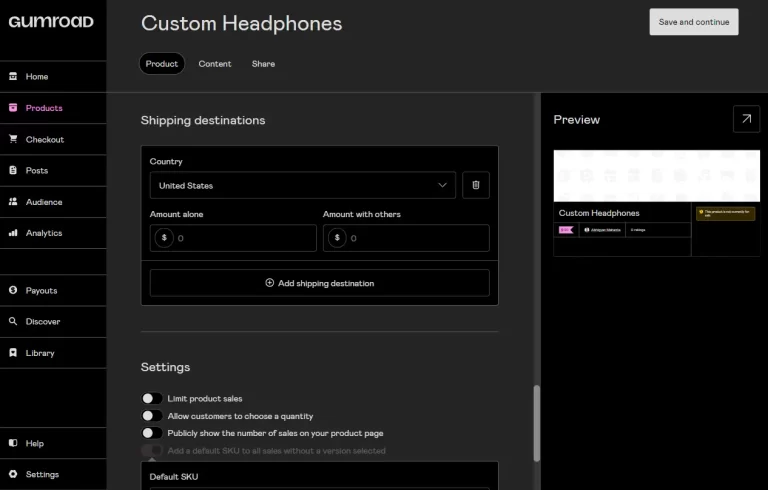 Best Practices for Selling Physical Products on Gumroad:
To avoid chargebacks and support queries, provide comprehensive information in your product description, including sizing details, product dimensions, fabric information, shipping dates, estimated arrival times, and your refund policy.
Plan to ship orders within 5-7 days of purchase, and keep customers informed about their order's progress by providing tracking numbers.
If you use a fulfillment provider, export your orders as a CSV, and ensure timely and accurate order management. Remove orders with "1" in the Refunded or Disputed columns.
You can integrate Gumroad with Printful if you want to use them as your fulfillment provider.
After shipping, mark orders as shipped on the Audience dashboard and enter the tracking URL to keep customers updated on their order's status.
How To Test Purchasing On Gumroad?
To perform purchase testing on Gumroad, follow these steps to simulate a customer's experience and ensure that your products are functioning correctly:
Stay Logged In
Make sure you are logged into your Gumroad account.
Navigate to Your Product's Page
Visit the product page for the item you want to test. You can do this by going to your Gumroad dashboard and locating the product you want to test.
Access the Purchase Page
On the product page, find the link located beneath the product name that leads to the purchase page. Click on this link to proceed.
Initiate the Test Purchase
On the purchase page, you will see a button that says 'I want this!' or 'Subscribe,' depending on the type of product.
Click on this button to move forward to the checkout page.
Select Test Card Payment Option
On the checkout page, you will notice a payment option labeled as 'Test card.'
It should look like a simulated payment method, and it is used specifically for testing purposes.
Finalize the Test Purchase
At the bottom of the checkout page, you will see a 'Pay' button. Simply click this button to complete the test purchase.
You will not be charged for this purchase since it is a test conducted within your Gumroad account.
Receive Confirmation Emails
After the "purchase" is complete, you will receive email notifications regarding the test sale. You will receive notifications for both the sale and the purchase.
It's important to note that this test sale will not be displayed in your Audience Dashboard alongside your other actual sales.
Alternatively, if you wish to test a purchase using a 100% discount code, you can do so.
It's essential to emphasize that you should not pay for your own products with actual payment methods.
Using your own credit card to make purchases on your own Gumroad products can trigger security concerns, as it may appear similar to money laundering to Gumroad's security systems.
This action may lead to an automatic suspension of your account.
If you run actual sales on your products and Gumroad detects self-purchases, it may be required to refund these sales, as it can create complications with Gumroad's banking partners.
If you are concerned about the payment process or have doubts about whether your bank account or PayPal will be successfully paid out by Gumroad, it's recommended to contact Gumroad's support for assistance and verification.
It's advised not to attempt to circumvent the system but to seek help from Gumroad's support team, as they are there to assist you.
Which Products Are Not Allowed On Gumroad?
Gumroad restricts certain product types due to their association with a higher likelihood of fraud and chargebacks, as determined by their payment and regulatory partners.
Some of the common types of products that are not allowed on Gumroad include:
IPTV Subscriptions
Reselling Software: This includes reselling software licenses like Windows 10 license keys that you've purchased in the past.
Web Hosting or Servers
Tickets to Events: This includes using Gumroad to process money for events you are hosting.
Reselling Ebooks: Specifically, reselling ebooks for which you have reseller rights (PLR products).
Selling Physical Goods: Selling physical goods, whether new or old, that you didn't create or for which you don't own the rights.
This includes products like toys, electronics, or mass-produced items like sneakers.
Jewelry Sales
Selling Steam Keys or Hacks
Selling Physical Products in Violation of Terms or Federal Laws: This includes items related to businesses like CBD that may violate Gumroad's terms or U.S. federal laws.
Pornography: Gumroad does not permit the sale or display of content featuring actual humans engaging in sexual behavior, though artistic depictions may be acceptable.
Services Fulfilled Outside Gumroad: Certain services that fall outside of Gumroad's purview are not allowed.
Food Products, Medical Products, Skincare, or Beauty Supplies
Credit Repair Ebooks or Services: Products related to credit repair or improvement.
Gift Cards
Products Featuring Cruelty to Animals
If a user shares, promotes, or sells content that violates these guidelines, it constitutes a violation of Gumroad's Terms of Service.
Depending on the severity of the violation, Gumroad may take various actions, including suspending the user's account and refunding sales.
In cases where the violation is not severe, the product may be removed, but the user is still allowed to operate their account.
However, repeated violations may result in a two-week notice, payment for remaining sales, and ultimately, the deletion of the user's account.
What Services Can You Sell On Gumroad?
Gumroad primarily focuses on facilitating 1:1 transactions where customers pay for a product and receive immediate access to it, such as a PDF, Photoshop brushes, or a movie.
Selling services, which involve providing one-time work to customers outside of Gumroad's servers, is allowed, but it comes with some conditions and restrictions.
Services that you can sell on Gumroad include:
Coaching Services
You can offer coaching services where customers pay you through Gumroad, and you engage with them over a specified period, such as six weeks.
Ideally, in addition to your coaching, you should provide tangible files, like an ebook or a workbook, to demonstrate a clear 1:1 transaction.
Skype Lessons
If you provide lessons via Skype or a similar platform, customers can pay for these services through Gumroad.
Just like coaching services, it's beneficial to offer tangible files alongside the lessons to validate the transaction.
Access to Another Website
You can charge customers on Gumroad for access to another website or online content, such as a Snapchat feed.
Gumroad provides a custom delivery feature that can be used for such transactions.
However, there are specific services that you cannot sell on Gumroad, including:
Installation or Tech Support Services
Selling services like remote software installation or technical support is not allowed on Gumroad.
These services do not involve the sale of tangible files, and therefore, they are not considered suitable for the platform.
In-Person or Prolonged Service Contracts
Services that require in-person or extended contractual engagements, like fixing someone's roof or redesigning a website, are not permissible on Gumroad.
The reason for these restrictions is primarily related to financial and legal considerations.
Services are considered riskier from a financial perspective due to the potential for high chargeback rates.
Gumroad aims to maintain a transparent and accountable payment processing environment, and the inclusion of services can complicate this effort.
Additionally, it can create legal gray areas for the platform where they might be held responsible for transactions they cannot track or verify.
In summary, Gumroad allows the sale of certain services with the condition that they are accompanied by tangible files that demonstrate a clear 1:1 transaction.
However, services that do not adhere to these guidelines may result in account closure, and in cases of high chargeback risk, existing sales may be refunded.
How To Add Gumroad To WordPress Website?
To add Gumroad to your WordPress website, you can follow these steps:
Prerequisites:
You should have a WordPress account.
Make sure you have a published Gumroad product.
You'll need the Gumroad WordPress plugin for integration.
Getting Started:
Begin by creating your product on Gumroad and clicking the "Publish" button. After that, open a new browser tab.
Connecting Your Gumroad Account:
In your WordPress Dashboard, navigate to "Tools" and then click on "Plugins."
In the Plugin browser, search for "Gumroad." Once you find it, click on "Activate."
Now, there are three main methods to redirect your customers to your Gumroad product page.
1. Sharing the Link:
This method is the simplest way to direct customers to your Gumroad product page.
You can achieve this by turning text on your WordPress page into a hyperlink that leads to your Gumroad product's URL.
You can also add an image to your page and configure it to open your Gumroad product's URL when clicked.
2. Using Overlay:
Gumroad's Overlay is a non-intrusive pop-up window that allows customers to buy your product without leaving your website.
They can purchase a single product or multiple products from you.
To set this up, you can create a page on your WordPress site where you want to place a buy "button" or link to your Gumroad products.
Then, use the [gumroad] shortcode to display Gumroad products on your WordPress site.
Here's an example of what the shortcode should look like:
[gumroad

id

=

"XXXX"

text=

"Purchase Item"

type

=

"overlay"

wanted=

"true"

]

Breakdown of the shortcode parameters:
gumroad id: Your Gumroad product ID (not actually "XXXX"). You can find the product ID in the "suffix" of your product URL while editing the product on Gumroad.
text: The text you want to display on the Gumroad product's Buy button (applies when using Overlay).
type: Choose either "embed" or "overlay" (default is "overlay").
wanted: Set to "true" or "false"; if omitted, the default is "false." When set to "true," it automatically displays the payment form, bypassing the product's image and description.
3. Embedding the Product:
Gumroad Embed fully integrates your product or payment form into your WordPress page. To do this:
Insert the following code into your page:
[gumroad

id

=

"XXXX"

type

=

"embed"]
When editing your post or page, the code might not look like much, but once you publish it, you will see your "Buy" button when using Overlay or the product itself when using Embed.
By following these steps, you can seamlessly integrate Gumroad's payment forms into your WordPress website, providing a convenient shopping experience for your customers.
Final Thoughts On Gumroad
Gumroad stands as a shining example of how technology can simplify this process while providing creators with the tools they need to succeed.
With its easy-to-use interface, robust features, and an enthusiastic community of creators and consumers, Gumroad has earned its place as a top choice for selling digital products and memberships.
Whether you're a seasoned pro or just starting out on your creative journey, Gumroad's versatility and support make it a fantastic option.
So, if you've been contemplating where to showcase and sell your digital creations and physical products, Gumroad is certainly worth exploring.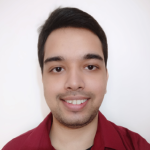 Hi! I'm Abhigyan, a passionate remote web developer and writer with a love for all things digital. My journey as a remote worker has led me to explore the dynamic landscape of remote companies. Through my writing, I share insights and tips on how remote teams can thrive and stay connected, drawing from my own experiences and industry best practices. Additionally, I'm a dedicated advocate for those venturing into the world of affiliate marketing. I specialize in creating beginner-friendly guides and helping newbie affiliates navigate this exciting online realm.