TMDHosting Review Dec, 2023 - Great Performance with Affordable Plans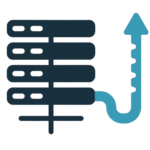 Downtimes aren't frequent and usually don't last long.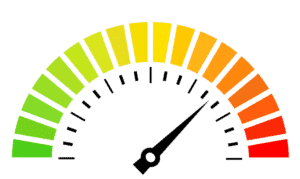 Fast servers and efficient caching result in decent performance.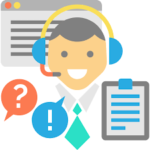 Access to 24/7/ customer support via numerous platforms, including live chat, emails, forums and phone calls.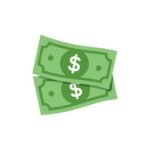 Initial rates are more budget-friendly than most other web hosting companies, starting at $2.95/mo.
TMDHosting is based in Orlando, Florida, and has been operational since 2007. 
They were named Best phpBB provider and Best CMS Made Simple provider within a year of its launch.
It was named PC Mag's editor's choice, and has claimed to power over 300,000 websites. 
Although not as popular as other web hosts like BlueHost or InterServer, the company seems to have built a solid customer base over the years.
TMDHosting offers shared, VPS, cloud and reseller hosting, dedicated servers along with a ton of great features and premium support for all customers.
In this detailed review, we'll take a closer look at their recent uptime stats, speed performance, hosting packages, including WordPress plans, customer support, and much more. 
Let's dive in!
Disclaimer: This article contains affiliate links where I may receive a small commission for at no cost to you if you choose to purchase a plan from a link on this page. You can read my full affiliate disclosure in my disclaimer page.
Pros: Why I Like TMDHosting
1. Awesome Speed Test Results
Load time is something that we all care about. Because this metric is taken into serious consideration by search engines while ranking our website.
Personally, I consider load times of less 500 ms to be incredible and TMDHosting is certainly one of the top performers in this regard in my experience.
Below are screenshots from speed test done on Bitcaptcha as well as GTMetrix. You can see that TMDHosting has passed these test with high scores.
The test below is from Hostscore. They check the response time every four hours from ten locations. 
It was found that the average aggregate response speed for TMDHosting is 140.44 ms, which is great as per industry standards.
2. Excellent Uptime Statistics
Officially, TMDHosting guarantee 99.99% uptime by using their specially developed Linux hosting environment and all-SSD utilization that enables them to provide up to 30x more speed and performance.
You can see from the stats below how TMDHosting has performed exceptionally in the last few months. 
However, they did have a small period of downtime on 4th February but other than that, they have scored 100% in hostscore's test during March to June 2020.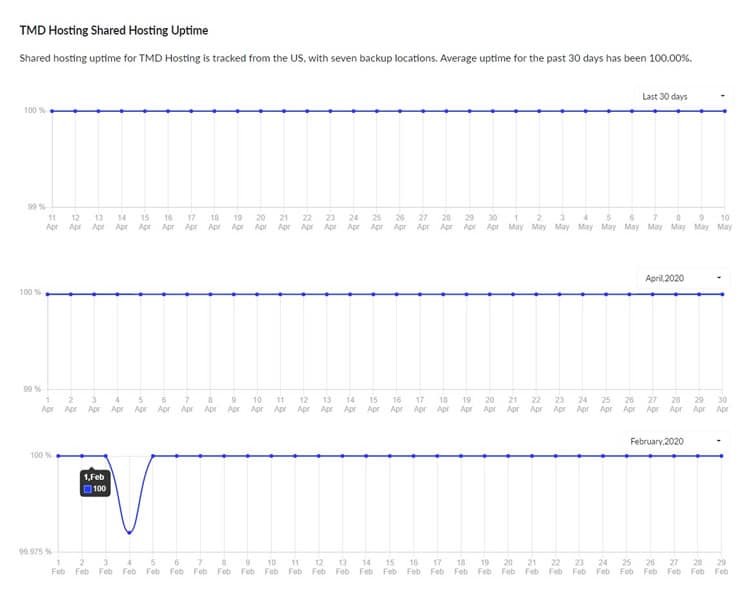 TMDHosting has consistently shown excellent uptime statistics over the years as well. 

However, TMDHosting doesn't offer a way to monitor their uptime unlike other web hosts like Hostinger (read review). 
But you can easily use a service like Uptime Robot to keep tabs on your site's availability.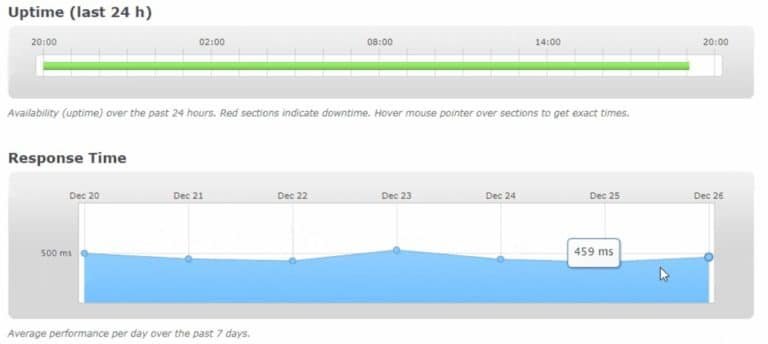 3. Responsive 24/7 Customer Support
TMDHosting offers top-notch tech support team that is available to you 24/7 via telephone, live chat, or support ticket. 
Any time you submit a support ticket, they guarantee you won't have to wait more than 15 minutes to receive a response to your query.
My experience with their customer support team has been great. I have tested their 24×7 live chat and their email support, and I got fast responses.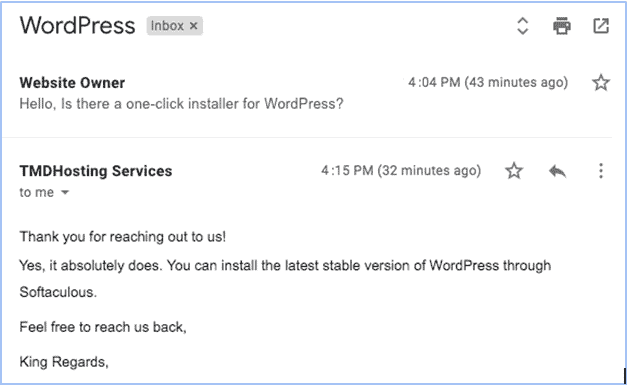 They also have a comprehensive knowledgebase where you can select a category and search for your query. 
Every topic will redirect you to a forum where you can further ask more information on that topic.
TMDHosting also has a good collection of tutorials for your reference. They have covered a lot of topics that covers CMS, E-Commerce, Social, CRM, LMS, and more.
Although most of the tutorials don't contain video in them, I did find their tutorials to be well explained and easy to follow.

4. Attractive Plans With Great Features
TMDHosting offers 3 shared hosting plans that you can choose from, which are Starter, Business and Enterprise. 
All of them comes with a 60-Days money back guarantee, so you can test out their services risk-free.
Their cheapest plan is Starter for just $2.95/month if you sign up for a three years contract. 
It comes with standard performance, which is adequate for a WordPress site. You get basic caching, a free domain, free SSL, unlimited bandwith, and storage.
The one big restriction is that you can only host one website with it. But for those starting out, that should be fine.
The Business plan starts from $4.95/mo and provides everything the Starter plan offers plus memcache instance of 128 mb. Also, you will be able to host unlimited websites with this plan.
The Enterprise plan features three times the performance of the Starter plan. It also comes with Wildcard SSL certificate and memcache instance of 256 mb.
However, TMDHosting makes no claims on its shared hosting options that it is PCI compliant. 
But that is not a big deal, for starters. If you're using a VPS or dedicated servers that allow you greater control, they can easily be configured to be PCI compliant.
5. Multiple Choices of Server Locations
TMDHosting offers the choice of the seven server locations. They have data centers in Phoenix, Chicago, London, Amsterdam, Singapore, Sydney and Tokyo.
All their data centers are certified under the SSAE-16 standard that guarantees their high levels of operation. 
Also, they have upgrade their hardware to all-SSD solutions, providing up to 20x faster disk performance.
Having seven datacenters certainly gives them an edge over other web hosts. As you might already know, when your website is hosted closer to your users, it will load faster for them.
So no matter which region your targeted traffic belongs to, TMDHosting has got you covered.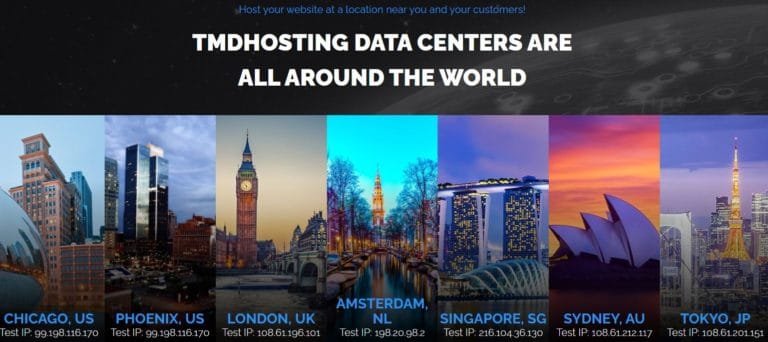 6. Free Site Migration Services
TMDHosting also offers free site migration. Rest assured, they do this without any downtime during the process.
They also provide assistance with changing nameservers and domain registration transfer.
You can initiate a website transfer by just submitting a ticket to their support team via your Client Area. 
Once you submit your ticket with the required access information, their support team will immediately start the transfer process.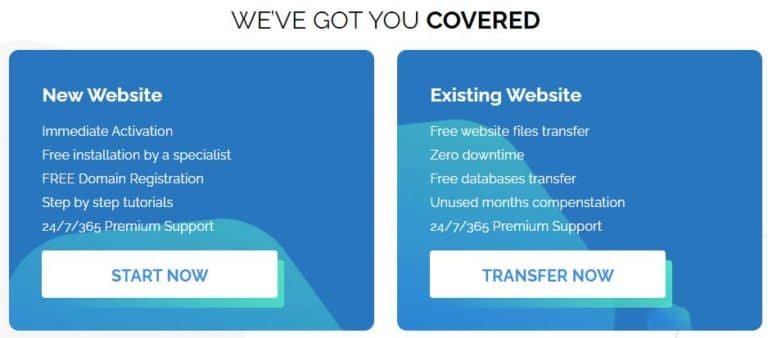 7. Site Scaling Up using VPS and Dedicated Hosting
Eventually, your website might outgrow shared hosting, and you may require to go for VPS Hosting and Dedicated Hosting. 
However, instead of going for a dedicated server or having to upgrade to a VPS, you can upgrade to a higher shared plan (Business or Enterprise) and get additional computing resources you require like additional RAM, CPU, or other features.
Once your business becomes bigger and you start seeing heavy traffic to your site, you can choose to go for VPS hosting or dedicated hosting, which gives the best performance in terms of speed and resources.
Currently, TMDHosting offers five different VPS hosting plans, ranging from $19.97/mo to $64.97/mo on signup. 
The plans differ mainly in allocated size for SSD space, bandwith, RAM and number of CPU cores.

TMDHosting  also offers four dedicated hosting plans ranging from $79.97/mo to $149.97/mo. These plans are particularly suitable for large scale business websites which requires a lot of resources.
Just like in VPS Hosting, the plans here too differs in allocated size for SSD space, bandwith, RAM and number of CPU cores.
8. Transparency On Server Limitations
Some web hosts tend to be quite vague with server limitations, but TMDHosting is  transparent when it comes to server usage limitations.
TMDHosting has mentioned clearly on their guidelines that they will allocate specific CPU seconds per month to each shared hosting account and send alerts to users if they exceed 70% of their CPU seconds.
This is really important for users who do not monitor their usage limits on a regular basis and might not realize they need to upgrade their plans for accommodating their website's growth.
9. Free Daily Backups + Live Malware Protection
While handling multiple websites, it is easy to forget to backup your websites. 
TMDHosting takes care of this by providing free daily database and weekly storage backups for its shared hosting plans.
Although, I believe it is always a good idea to make backups of your own just in case. I feel more comfortable when I have my own backups. 
You can use free plugins like UpdraftPlus to create your own backups.
Moreover, TMDHosting offers live malware protection through its BitNinja-powered web-based firewall to deal with any hacks and breaches. 
If you are running eCommerce sites or storing personal data, this feature can surely put your mind at ease. 

1. Price Hike During Renewal
While the cost for signing up with TMDHosting is quite appealing, the regular renewal fees are high. 
Although this is a common feature in almost every web host out there, there are some web hosts like InterServer (read review) where there is no renewal hike ever.
However, TMDHostiong's price hike is comparatively much less than that of other premium web hosts, such as Siteground (read review).
2. Setup Fee in Monthly Plan and Upsells
There is a setup fee of $9.95 if you choose to go for their monthly plan.
Moreover, during signup you will see a lot of upsells like sitemap generation, google search console integration and google analytics integration, which I find to be overpriced considering you can easily do them for free.
My advice would be to not go for these addons except Sitelock basic (if you really need it) as you can easily use free plugins like Monster Insights for Google integrations.
3. Cheapest Plan is for Three Years Contract
Like most web hosts, in order to get the cheapest plan rates, you have to sign up for a lengthy contract, which is three years for TMDHosting.
If you go for a shorter contract, then the rate will increase. However, I don't think this is a deal breaker because even with the increased rates in shorter contract, the prices are economic, affordable and comes with a 60-days money back guarantee.
4. Auto Backup Feature is not Industry Standard
The usual industry standard for file and database retention backup period is within 7 to 14 days.
However, TMDHosting only offers 5 days for their database retention period and they keep only one copy of the files on the server.
If you require any file or database to be restored you can request it by submitting a support ticket from your Client Area.
More Features of TMDHosting:
Weebly is a free drag-and-drop website builder that lets you build a website without any coding skills.
This feature is included in every TMDHosting web hosting plan to help people make their own site from scratch or customize any of the numerous Weebly templates to make beautiful responsibe websites.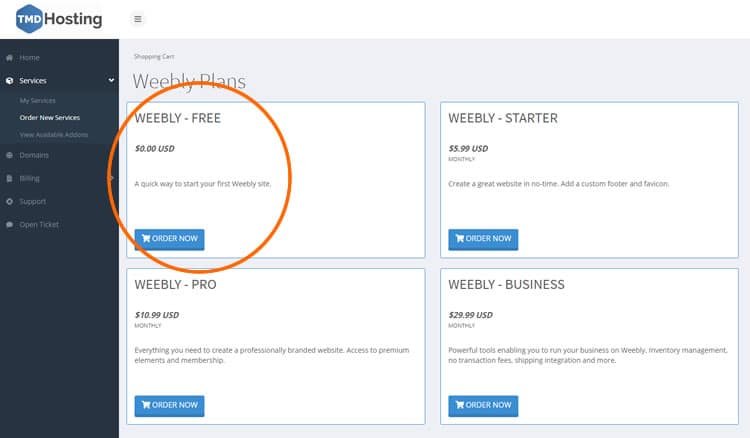 2. Managed Drupal and Joomla Hosting
For those of you who use Drupal or Joomla CMS, TMDHosting provides managed Drupal and Joomla optimized plans for you. 
Drupal and Joomla plans are similar in terms of pricing and resources allocated per plan.
If you are just getting started with Joomla or Drupal and need assistance, TMDHosting has a dedicated technical support team at your disposal.
Moreover, all the other features and services that you receive in these plans are similar to that of shared web hosting plans like free site migration, daily backups, etc.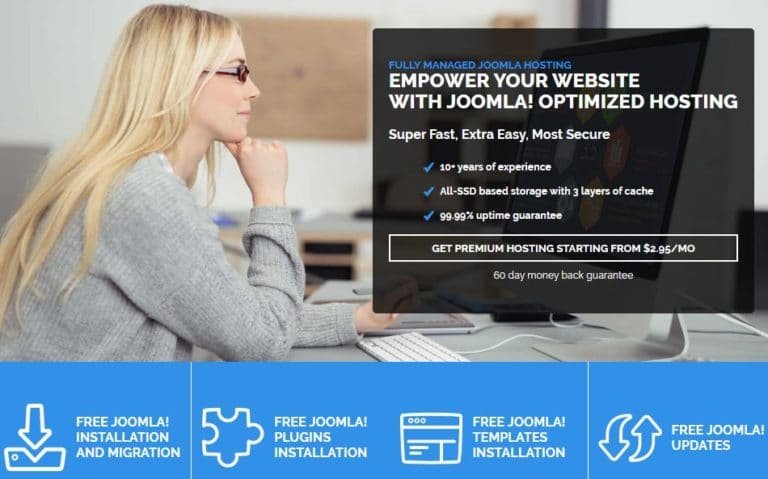 TMDHosting utilizes a CloudLinux distribution which provides security enhancements to the servers. 
The servers also receive security patches and operating system updates from the Cloud Linux Network (CLN).
TMDHosting has its proprietory firewall built on Apache's mod security. The support team keeps the firewall updated regularly to prevent DDoS attacks. 
Additionally, you get free spam protection and SSL certificates.
There is also a security team to monitor hardware failures or errors and counter security threats as well. If the firewall misses something, the security team will be there to deal with it.
TMDHosting has made changes to their Portal Dashboard to made it more user friendly. 
You can manage everything in one convenient portal which houses the cPanel login, support tickets, billing, and other upgrades.
Using the cPanel, you can further get support for Cloudflare CDNs and the Softaculous auto-installer to easily add features and functionality to your website.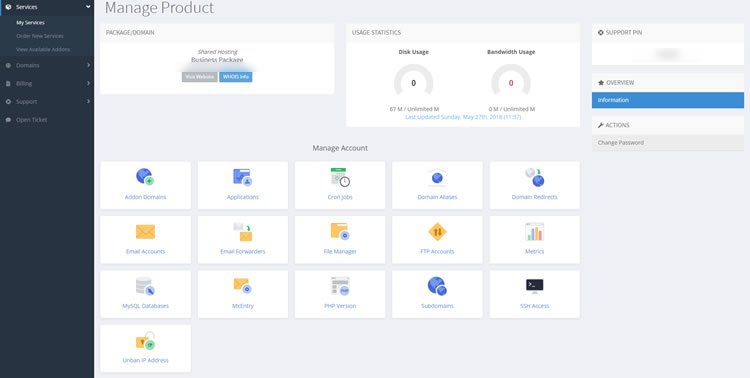 TMDHosting's Reseller Hosting comes with three different reseller web hosting packages starting from $19.95/mo to $49.95/mo, with a 30-days money back guarantee.
The main difference between the packages is the amount of disk space allotted, number of cPanel accounts and the maximum amount of bandwidth you and your clients can use.
As a reseller, you will be able to create new accounts for your clients and can provide each one with a separate cPanel. You are provided with a WHM access where you can create and manage each account.
You can further create custom plans from your WHM by specifying the resources based on the disk space and bandwidth of the reseller package you have purchased.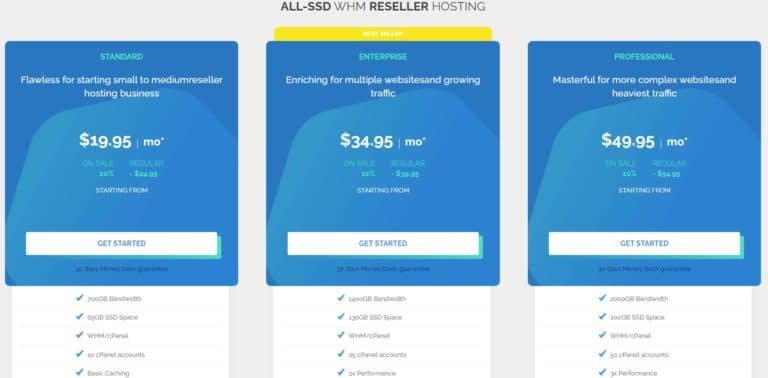 6. E-Commerce Web Hosting
TMDHosting's E-Commerce Hosting comes with free SSL certificates, daily backups, e-commerce site transfer, CDN service, free e-commerce installation by a specialist, and others.
OpenCart, PrestaSho, Magento, WooCommerce and many other CMS applications can be easily installed through Softaculous Autoinstaller, that you will find in your cPanel.
There are three plans to choose from. All of the plans comes with unlimited SSD space, NGINX web server and unlimited bandwith but you will be able to host only one e-commerce site with the starter plan.
7. Managed WordPress Web Hosting
TMDHosting's managed wordpress hosting comes with a free domain name, free Spam protection by SpamExperts, and complimentary daily backups and restoration.
You also get SSH Access, FFMPEG, and HD Codecs. You can install WordPress-compatible modules with a single click.
They claim to run the websites on SSD supercharged technology that delivers up to 30X faster WordPress performance. The installation process is free and takes around 10 minutes to complete.
TMDHosting also provides free WordPress templates and tutorials. Additional features include ID protection, an SSL certificate, and goMobi mobile readiness.
There are three different plans to choose from, starting from $5.95/mo to $9.95/mo, with a 60-days money back guarantee. All of them comes with unlimited SSD space and bandwith but you can host only one site with the starter plan.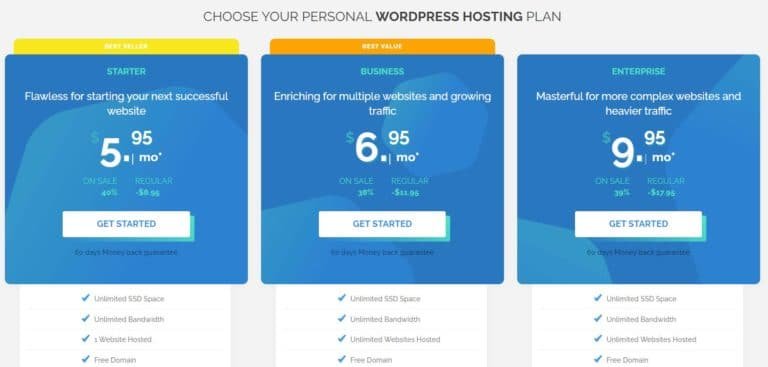 If you are currently working on an open source project, TMDHosting technical support team will help you with the infrastructure-related aspects and provide customized plans for you.
Furthermore, even though TMDHosting doesn't list this on their main tabs, they also offer specialized hosting to suit pretty much any of your needs.
For instance, TMDHosting offers adult hosting. The pricing plan and services offered for adult hosting are same as that of shared web hosting.
I think TMDHosting is a great choice for bloggers and businesses alike. They offer a lot of features at affordable prices and their speed performace and uptime is remarkable.
With seven datacenters around the world, you can reach your targeted traffic without any hassle. 
Whether you want to set up an e-commerce store or require a Drupal/Joomla/Wordpress site migration, TMDHosting has got your back.
If you are considering their Shared Web Hosting, I would recommend you go for the Business Plan as the signup costs are just $24 in difference ($2.95/mo vs $4.95/mo) but you'll have a much better server performance and capacity.
Are you going to check out TMDHosting? Let us know in the comments. 
Does TMDHosting have a money-back guarantee?
Yes. Yes, all shared hosting plans are backed by a 60-days money-back guarantee. Reseller Hosting comes with a 30-days money-back guarantee 
Do Any TMDHosting Plans Offer Free Domains?
Yes, every TMDHosting plan comes with a free domain.
What payment options can be used with WooCommerce Hosting?
WooCommerce has a number of payment options available, which are built-in to the plugin itself. 
You can use Bank Transfer, Paypal Standard, Cash on Deliveryand Cheque payment.
Do they provide Spam protection for emails?
Yes, all of the shared hosting packages are equipped with a spam protection for the email accounts associated with the service for free. 
The protection is powered by one of the most popular and effective solutions – SpamExperts.
Can I pay monthly?
Yes, monthly payments are available, as well as quarterly, semiannual, annual, biennial and 3-year billing cycles. 
However, there is a setup fee of $9.95 if you choose the monthly plan. 
How long does it take for account setup?
The setup of your account will be completed right after the purchase. Usually, the whole procedure takes а few minutes to verify the order and set up the new account.
Do they provide SSH access?
SSH access is not provided by default, however, if you need it, they will enable SSH access to your account and assist you with all required information. 
It can be requested by submitting a new support ticket from your Client Area.
Which TMDHosting plan is the best for beginners?
I would recommend to go for the Business Plan as the signup costs are just $24 in difference ($2.95/mo vs $4.95/mo) but you'll have a much better server performance and capacity.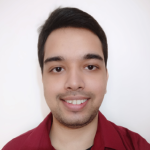 Hi! I'm Abhigyan, a passionate remote web developer and writer with a love for all things digital. My journey as a remote worker has led me to explore the dynamic landscape of remote companies. Through my writing, I share insights and tips on how remote teams can thrive and stay connected, drawing from my own experiences and industry best practices. Additionally, I'm a dedicated advocate for those venturing into the world of affiliate marketing. I specialize in creating beginner-friendly guides and helping newbie affiliates navigate this exciting online realm.