Synder Review Dec, 2023: Master Your Finances In A Click!
Synder addresses the critical need for efficient, accurate, and automated financial management, particularly in the realm of e-commerce.
Whether you're a solo entrepreneur managing an online store or a finance professional overseeing a multinational corporation, Synder's versatility adapts to your unique needs.
Synder stands at the forefront of cutting-edge accounting solutions, revolutionizing the way businesses handle their finances.
Its primary functions extend far beyond the conventional, providing a seamless integration of e-commerce transactions with popular accounting platforms like QuickBooks and Xero.
Imagine the time saved by eliminating manual data entry and the confidence gained from accurate, up-to-date financial records.
These are the promises Synder delivers on, and throughout this review, we'll delve into each aspect, exploring how it can transform your financial workflows for the better.
Disclaimer: This article contains affiliate links where I may receive a small commission at no cost to you if you choose to purchase a plan from a link on this page. You can read my full affiliate disclosure in my disclaimer page.
Synder, established in 2017, was crafted with a vision to revolutionize financial management for businesses.
Initially conceived to address specific pain points in accounting, Synder has undergone iterative development, incorporating user feedback and industry trends.
Synder's core features form the backbone of its appeal, empowering users to streamline financial workflows efficiently.
The automatic transaction import functionality stands out, ensuring real-time data synchronization across various platforms.
This feature, coupled with multi-currency support, caters to businesses operating on a global scale, enabling hassle-free management of transactions in diverse currencies.
A standout aspect is the software's prowess in invoice management and inventory tracking. 
Synder's user-friendly interface allows for effortless creation and customization of invoices, while the inventory tracking feature provides businesses with valuable insights into stock levels and sales trends. 
Tax compliance and reporting are seamlessly woven into the software, alleviating the burden of navigating complex tax landscapes.
Navigating Synder is a user-friendly experience that reflects a thoughtful approach to interface design. The dashboard, adorned with intuitive visuals, provides a comprehensive overview of financial data. 
The software's customization options allow users to tailor their workspace, prioritizing information relevant to their business needs.
The simplicity of the user interface does not compromise functionality. Synder strikes a balance, offering powerful features without overwhelming users. 
Synder is tailored for a diverse audience, spanning across industries and business sizes. 
Small businesses and startups benefit from its user-friendly interface and affordability, while larger enterprises appreciate its scalability and robust feature set. 
E-commerce businesses find Synder particularly valuable due to its seamless integration with popular platforms like Shopify and WooCommerce.
The software's applicability extends beyond industries, making it a versatile solution for anyone seeking streamlined financial management. 
Whether you're a solo entrepreneur or part of a larger corporate structure, Synder's adaptability ensures relevance to your specific financial needs.
Why Should You Choose Synder?
Synder stands out as a comprehensive and indispensable solution for businesses looking to streamline their accounting processes. 
One of the key reasons to choose Synder is its unparalleled flexibility in syncing data. 
Whether you need a daily summary or per transaction syncs, Synder allows you to customize the level of detail in your financial records, catering to the unique needs of your business. 
This adaptability is crucial for gaining a holistic view of your order and customer information in your books or focusing specifically on financial aspects.
Moreover, Synder boasts the most extensive array of integrations available in the market. 
With a continuous commitment to expanding its integration options, Synder covers major ecommerce platforms such as Shopify, Amazon, and eBay, along with various payment platforms like Stripe, Paypal, and Square. 
The addition of new integrations is driven by customer suggestions, ensuring that the system evolves to meet the dynamic needs of businesses.
Customer satisfaction is at the core of Synder's success. With thousands of positive reviews on platforms like G2, Trustpilot, and the Shopify App Store, it's evident that customers trust and love Synder. 
The exceptional customer service provided by Synder's support team, available 24/7, further contributes to the high level of customer satisfaction. 
The support team is dedicated to helping users succeed with Synder, offering assistance from setup to ongoing usage.
Synder's smart system is a time-saving marvel, automating repetitive tasks and allowing businesses to allocate their time and resources more efficiently. 
Smart rules enable users to customize Synder to manage tasks accurately, ensuring that transactions are synced in minutes, minimizing manual effort and eliminating stress.
Security is a top priority for Synder. 
The system employs industry-standard encryption practices, undergoes regular independent PEN testing, and is fully compliant with GDPR, HIPAA, and CCPA regulations. 
Users can trust that their data is in safe hands with Synder, as no human intervention is involved in handling any Synder data.
In summary, Synder emerges as a one-stop solution for accounting needs, offering a user-friendly platform with customizable sync options, a vast range of integrations, exceptional customer support, time-saving automation, and robust security measures. 
Businesses can rely on Synder to centralize their transactions, generate up-to-date reports, manage multi-channel inventory, reconcile sales channels, and collect credit card payments seamlessly. 
With Synder, managing accounting becomes not just a task but a strategic advantage for growth and success.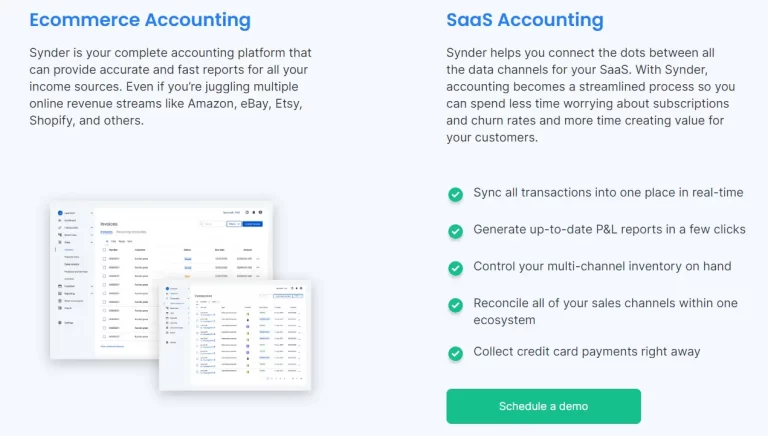 Synder Pricing offers a comprehensive and flexible solution for businesses of varying sizes, accommodating a range of transaction volumes and operational needs. 
With over 25 integrations available, users can seamlessly connect their accounting systems with no additional costs, providing a streamlined and efficient experience. 
The pricing structure is tiered to cater to different business scales, starting with the Medium plan at $61 per month for online businesses handling up to 500 transactions. 
The Scale plan, designed for multi-channel businesses processing 1000 to 5000 transactions, is available from $110 per month. 
The Large plan, catering to businesses with transaction volumes ranging from 10,000 to 50,000, includes inventory management features and is priced from $275 per month. 
For Enterprise users, which include multimillion international corporations, custom pricing is available, and interested parties are encouraged to engage with the sales team for personalized solutions.
The key features of Synder Pricing are designed to meet the diverse needs of businesses. 
Monthly transaction volume allowances vary across plans, with the Enterprise plan offering scalability for those exceeding 50,000 transactions. 
Unlimited integrations ensure seamless connectivity, and smart rules, invoicing, access to historical data, and additional user support are available as add-ons or included based on the chosen plan. 
Synder supports popular accounting platforms such as QuickBooks, Xero, and its own Synder accounting. The reconciliation process is smart and instantaneous, providing accurate and up-to-date financial information. 
The platform's reporting capabilities, tax tracking, multicurrency support, and extended inventory tracking make it a comprehensive solution for businesses with complex financial operations.
Synder also offers advanced features such as COGS synchronization for Daily Summary, product mapping, and bundle and assembly syncs, catering to businesses with intricate inventory management requirements. 
White-glove onboarding ensures a smooth transition for users, while the support infrastructure includes basic email support for the Medium plan and instant phone, email, and chat support for the Scale, Large, and Enterprise plans. 
Moreover, dedicated developers, individual transaction processing servers, and API access are available for users with more advanced needs, providing a highly customizable and robust financial solution. 
What Synder Can Do For Accountants
Synder offers a comprehensive set of features that can significantly enhance the efficiency and effectiveness of accountants. 
One of the key benefits is the fast reconciliation process, where platform sales, processing fees, and payouts are automatically recorded. 
The support for various sales channels, payment providers, and combinations like Shopify + PayPal ensures versatility in managing diverse client needs. 
The multi-user mode allows accountants to easily add additional stakeholders and efficiently manage multiple clients within a unified interface.
The Roll Back function is a standout feature, enabling accountants to effortlessly undo transactions individually or in bulk and re-sync them with new configurations, ensuring a streamlined and error-free accounting process. 
The tool also facilitates unlimited historical data import, allowing accountants to import years of historical data into their books, providing clean records for hassle-free reconciliation.
Custom development is another notable feature of Synder. 
The platform continuously evolves based on customer demand, with the ability to request and implement custom solutions to address specific client needs. 
The robust support at every step ensures that accountants receive assistance from setting up and customizing accounts to resolving any issues that may arise.
Synder Sync offers two modes for automated accounting: Daily Summary and Per Transaction. 
The former allows quick navigation through monthly transactions, reducing minor details in the accounting system, while the latter is ideal for tracking inventory, automating the closing of outstanding invoices, and preparing books for audits.
The tool records data based on each client's unique needs, providing a tailored solution for diverse accounting requirements.
The rollback and undo features provide full control over accounting records, making Synder highly recommended for accountants seeking efficiency and control in their workflow. 
Synder also offers incentives for accountants to connect more clients, with discounts and exclusive perks available through their Partner Program, further solidifying its value for accounting professionals.
Synder Pricing Plans For Accountants
Synder offers a comprehensive and flexible pricing structure tailored to meet the diverse needs of accountants, providing a range of features to streamline financial processes. 
For those outside the Partner Program, Synder provides two payment options: monthly and yearly, with the latter offering a substantial 20% discount. 
This flexibility caters to the varying preferences and financial strategies of accountants, allowing them to choose a plan that aligns with their business model.
With over 25 integrations included at no additional cost, accountants can seamlessly connect Synder with other essential tools and platforms.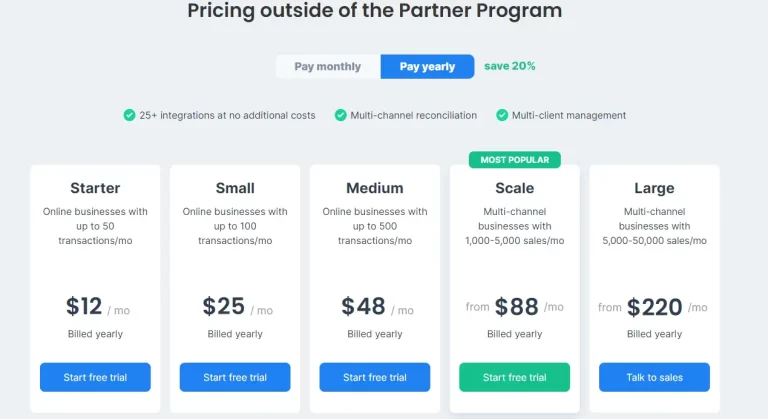 The multi-channel reconciliation feature enhances efficiency by enabling accountants to manage transactions across different channels effortlessly. 
This is particularly beneficial for accountants working with clients engaged in diverse online businesses.
The platform further distinguishes itself by offering multi-client management capabilities, making it an ideal choice for accountants handling multiple business accounts. 
This feature ensures that accountants can efficiently navigate through and oversee the financial transactions of various clients within a single, user-friendly interface.
Synder categorizes its pricing plans based on transaction volumes, catering to businesses of different sizes. 
The Starter plan, priced at $12 per month for online businesses with up to 50 transactions per month, offers a cost-effective entry point for smaller enterprises. 
As businesses grow, they can seamlessly transition to higher-tier plans like Small, Medium, Scale, and Large, each designed to accommodate increasing transaction volumes and business complexity. 
The most popular plan, Large, is tailored for multi-channel businesses with 5,000 to 50,000 sales per month, starting at $220 per month when billed yearly.
In addition to the scalability and cost-effectiveness of the plans, Synder sweetens the deal by providing a Start free trial option for each tier. 
This allows accountants to explore the platform's features and assess its suitability for their specific requirements before committing to a paid plan.
How Synder Works For Ecommerce Business
Synder plays a pivotal role in enhancing the accounting functions of e-commerce businesses, providing a comprehensive suite of tools and insights tailored to meet the unique needs of the industry. 
Synder Sync serves as a customizable tool, addressing various accounting requirements for e-commerce enterprises. 
The platform facilitates automated multichannel data synchronization into popular accounting software such as QuickBooks, QuickBooks Desktop, and Xero. 
The emphasis on error-free reconciliation and best-in-class categorization ensures that financial data is accurately and efficiently managed.
Moreover, Synder Insights takes e-commerce business strategy to the next level by offering multi-source Key Performance Indicator (KPI) reports on a single dashboard. 
This includes a real-time breakdown of products and customer data, providing actionable insights crucial for decision-making and fostering revenue growth. 
The integration of 25+ platforms, including major players like Shopify, Amazon, eBay, PayPal, and Stripe, creates a unified ecosystem, streamlining operations across diverse channels.
E-commerce businesses grapple with specific accounting challenges, ranging from inventory tracking to managing sales across various platforms. 
The complexity is compounded by the need to handle multicurrency transactions and monitor payouts, along with tracking tax information across different regions. 
Synder Insights, an additional feature, enables businesses to leverage the data collected from sales platforms and payment processors. 
This data is transformed into actionable financial reports, enabling a deeper understanding of crucial metrics such as COGS (cost of goods sold), LTV (lifetime value of a customer), time between purchases, average order value, products sold together, and insights into the most and least purchased products. 
This wealth of information empowers e-commerce entrepreneurs to make informed decisions, refine marketing strategies, and optimize their product offerings.
Synder's commitment to customer support is evident through its 24/7 worldwide availability via phone, live chat, email, and screenshare. 
The platform prioritizes data security, adhering to industry standards such as SOC2, GDPR, HIPAA, and CCPA compliance. Regular independent penetration testing ensures the highest level of data protection for users.
How Synder Works For SaaS
One notable feature of Synder is its capability to track separate platform fees. 
SaaS companies can sync fees from different platforms to distinct accounts in their accounting system, providing insights into expenditure across various services. 
The automation aspect extends to live tracking of different subscription levels, allowing businesses to gain a comprehensive overview of their cash flow and identify which subscription levels or services contribute most to revenue. 
This insight empowers companies to control budgets effectively and strategically time upselling efforts to enhance Annual Recurring Revenue (ARR).
Synder stands out with its intuitive accounting software, featuring smart rules and automated categorization. 
This brings full automation to accounting and back-office processes, encompassing income and expense categorization, payment due date reminders, expense tracking, and revenue recognition. 
Such automation streamlines operations, providing businesses with the necessary financial and business data to make informed decisions efficiently.
Customer reports and invoices revenue tracking are consolidated within Synder, creating a centralized hub for invoices and payments data. 
The platform automatically applies received payments from payment platforms to corresponding open invoices in QuickBooks Online, ensuring a comprehensive and accurate representation of cash flow. 
For companies using Stripe, Synder allows the synchronization of open invoices directly from the Stripe account, facilitating accrual-based accounting.
Synder further supports multi-currency transactions and provides detailed customer and revenue reports, enhancing understanding of SaaS customers and optimizing communication strategies. 
The platform aids in consolidating client data and offers insights into financial metrics and business cash flow.
Synder recognizes the significance of revenue recognition forms such as Monthly Recurring Revenue (MRR) and Annual Recurring Revenue (ARR). 
These metrics enable businesses to forecast future revenue, make informed decisions, and gauge important business metrics. 
Synder Sync, a tool utilized by SaaS customers, becomes instrumental in managing financial data, offering information on available cash, current subscription sales, and simplifying revenue recognition. 
Whether a SaaS company is new or established, Synder Sync proves valuable in facilitating software sales to businesses and individuals, providing ease and efficiency in financial management.
How Synder Works For Marketing Agencies
Synder proves to be an indispensable tool for marketing agencies, transforming them into strategic business partners armed with crucial financial metrics and business intelligence data. 
The seamless onboarding process begins with a one-click client setup, eliminating the waiting time for P&L organization and reports from accounting departments. 
This efficiency extends to calculating COGS, running clients' numbers, and significantly reducing onboarding time, thereby increasing the conversion rate of closed deals. 
The centralization of all clients in one place facilitates streamlined management, allowing agencies to customize dashboards for each client and utilize reports to guide data-driven marketing strategic decisions.
The platform not only simplifies operational aspects but also elevates marketing services to a new level. 
Synder goes beyond mere vanity metrics, offering marketing agencies a comprehensive analytics tool that delves into key financial metrics. 
This empowers agencies to provide their clients with real, actionable data essential for maximizing growth and making informed decisions. 
The integration of Synder as a trusted partner equips marketing agencies to guide e-commerce business owners with unparalleled insights, creating a foundation for enduring relationships.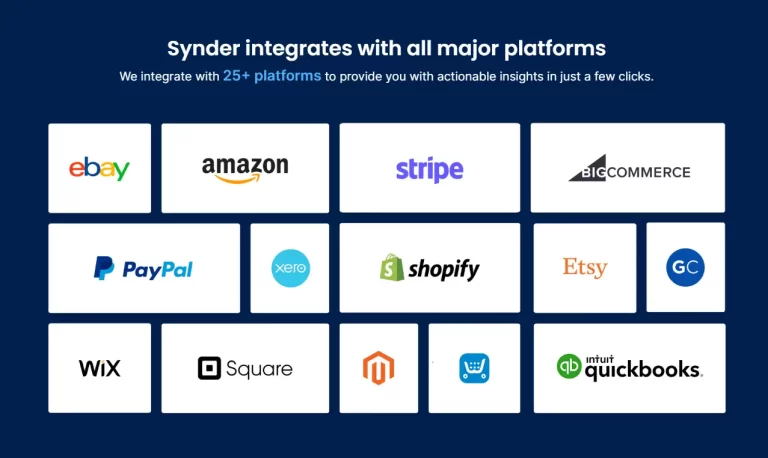 Synder's impact on client retention is substantial. By showcasing metrics that elucidate strategic focus areas, agencies can use clients' own data to shape thoughtful decisions. 
The provision of in-depth reports, typically not instantly accessible, becomes a powerful retention tool. The platform's ability to reveal true numbers solidifies the agency's position as a reliable and insightful partner. 
This, coupled with its crisis-resistant strategy capabilities, enables agencies to assist clients in identifying additional revenue streams during market downturns, further cementing their role as key players in client success.
The data-driven marketing analytics provided by Synder is positioned as a catalyst for agencies to take their services to the next level. 
Agencies can sell it as an add-on, upsell it, or seamlessly include it as part of their monthly retainer. 
This versatility ensures that marketing agencies can cater to diverse client needs, unlocking the potential for increased lifetime value through powerful financial analytics. 
Synder thus emerges as more than a tool; it becomes a cornerstone for marketing agencies looking to thrive in a competitive landscape by delivering unparalleled value to their clients. 
The platform's user-friendly interface, coupled with its robust features, positions it as the go-to solution for agencies aiming to revolutionize their approach and solidify their standing in the marketing ecosystem.
Synder Sync And Synder Insights
Synder Sync and Synder Insights together offer a comprehensive and efficient solution for businesses seeking streamlined and accurate financial management. 
Setting up Synder Sync is a breeze. With just a few simple steps, users can create a free account, connect all their platforms, and turn on auto sync. 
The automation provided by Synder Sync gives users full control over their books, offering two sync modes: Daily Summary and Per Transaction. 
The Daily Summary mode allows for quick navigation through monthly transactions, easy setup, fast reconciliation, and reduced minor details in the accounting system. 
On the other hand, the Per Transaction mode is perfect for tracking inventory, automating the closure of outstanding invoices, preparing books for audits, and generating customizable customer and sales reports.
The beauty of Synder Sync lies in its set-it-and-forget-it approach with auto sync, eliminating the need for manual data entry or cumbersome spreadsheets. 
Regardless of the transaction volume, whether 100 or 10K monthly, users can have their sales, fees, and taxes accurately organized. 
This efficiency becomes crucial in today's uncertain market, where relying on accurate financial metrics derived from payment and sales platforms is essential for strategic growth.
Complementing Synder Sync is Synder Insights, a tool designed to provide real-time and exhaustive data for informed decision-making. 
It serves as a single source of truth, catering to both accounting professionals and business owners. 
The tool's seamless integration with various platforms allows users to generate reports automatically, offering insights for data analysis with just a few clicks. 
This makes it an invaluable asset for those in service or operations roles. 
Synder Insights consolidates all the data needed for financial analysis, eliminating the need for multiple apps and spreadsheets, especially tailored for e-commerce businesses.
The Business Insights feature of Synder offers access to a variety of reports, accompanied by explanations of their significance and how they can contribute to business growth.
The accuracy in recording is a hallmark of Synder Business Insights, as all the information is sourced directly from the connected platforms, leaving no room for errors.
Moreover, Synder Business Insights provides a stand-alone solution for data analysis, simplifying the process for users who may have previously relied on multiple apps and spreadsheets for financial data insights. 
The tool is designed with ease of use in mind, specifically catering to the unique needs of e-commerce businesses.
Additionally, the multi-user company data access feature ensures that all team members have access to the reports they need, promoting informed decision-making for effective brand management. 
Pros & Cons Of Using Synder
Advantages of Using Synder
Automatic Transaction Import: Synder's standout feature is its seamless integration with various e-commerce platforms and payment gateways. 
The software excels in automatically importing transactions, reducing manual data entry and saving valuable time for users.
Real-Time Data Synchronization: One of Synder's strengths lies in its ability to provide real-time synchronization of financial data. 
This ensures that users always have up-to-date information, facilitating quicker decision-making processes.
Multi-Currency Support: Synder goes beyond borders by offering robust support for multiple currencies. 
This is especially beneficial for businesses engaged in international transactions, allowing them to manage finances effortlessly in different currencies.
Invoice Management: The software provides a comprehensive solution for invoice management. 
Users can easily create, send, and track invoices, streamlining the invoicing process and improving overall efficiency.
Customizable Workflows: Synder recognizes the diverse needs of businesses and allows users to customize workflows to align with their specific requirements. 
This flexibility enhances user experience and adaptability to different business models.
Security Features: Security is a top priority for Synder. 
The software employs advanced encryption and authentication measures to safeguard financial data, providing users with peace of mind regarding the confidentiality and integrity of their information.
Limitations and Drawbacks
Learning Curve: For new users, especially those without prior experience in financial software, there might be a learning curve associated with Synder. 
While the interface is user-friendly, understanding the full spectrum of features may take some time.
Feature Complexity: The abundance of features in Synder, while advantageous for comprehensive financial management, might be overwhelming for users with simpler needs. 
Some businesses may find certain features more advanced than necessary for their operations.
Pricing Structure: While Synder offers various pricing plans, the cost may be a consideration for smaller businesses or startups. 
Users should carefully evaluate their budget against the features offered in each plan to ensure cost-effectiveness.
Comparative Analysis with Other Similar Tools
In comparing Synder with other similar tools in the market, it's evident that Synder holds its own in several key areas:
Integration Capabilities: Synder's seamless integration with a wide array of e-commerce platforms and payment gateways gives it a competitive edge. 
The breadth of supported integrations allows users to connect with diverse business tools effortlessly.
Real-Time Updates: Synder's real-time data synchronization sets it apart from some competitors. 
The ability to access the latest financial information instantly enhances its utility for businesses requiring timely insights.
Multi-Currency Functionality: While some tools may offer multi-currency support, Synder's implementation is robust and user-friendly. 
Businesses engaged in global transactions can benefit significantly from Synder's comprehensive multi-currency features.
Invoice Management Features: Synder's dedicated focus on invoice management distinguishes it from tools that may not offer such comprehensive solutions. 
The ability to handle invoicing within the same platform simplifies financial workflows.
Synder's commitment to user-friendly design and automation has greatly simplified the often complex world of financial transactions. 
The software's intuitive interface, coupled with powerful features, has made it a go-to choice for both small businesses and established enterprises. 
The ability to effortlessly import transactions, manage invoices, and ensure real-time data synchronization has significantly contributed to the efficiency of my accounting workflows.
One standout aspect of Synder is its adaptability. 
Whether you're a solo entrepreneur, managing an e-commerce store, or overseeing a multinational corporation, Synder's versatility caters to a wide range of users. 
The software strikes a harmonious balance between sophistication and accessibility, making it suitable for users with varying levels of accounting expertise.
As Synder continues to evolve, I anticipate even more sophisticated features and integrations to be introduced.
The software has consistently demonstrated a commitment to staying ahead of industry trends, and I foresee ongoing enhancements that will further empower users in managing their finances.
Give it a try and witness how it can simplify and automate your e-commerce accounting.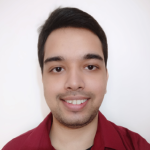 Hi! I'm Abhigyan, a passionate remote web developer and writer with a love for all things digital. My journey as a remote worker has led me to explore the dynamic landscape of remote companies. Through my writing, I share insights and tips on how remote teams can thrive and stay connected, drawing from my own experiences and industry best practices. Additionally, I'm a dedicated advocate for those venturing into the world of affiliate marketing. I specialize in creating beginner-friendly guides and helping newbie affiliates navigate this exciting online realm.