Vidnami Review: Best Video Creation Tool For Introverts
In this Vidnami review article, I'm going to show you how you can create high-quality videos in a few minutes using this software. I'll also give a demo of its best features and show you a few ways to save some money with Vidnami.
I was looking for a video creation software in which I didn't have to appear on camera and spend a ton of time editing. I wanted a quick method to start releasing videos on a daily basis. That is when I came across Vidnami.
Vidnami was previously known as Content Samurai, but it was rebranded so that it reflects that it is a Video creating software and you can make a tsunami of videos with it.
But it is the same awesome software with added features. Let's get started.
Disclaimer: This article contains affiliate links where I may receive a small commission at no cost to you if you choose to purchase a plan from a link on this page. However, these are the tools I personally use and fully recommend for the organic growth of a website. You can read my full affiliate disclosure in my disclaimer page.
Vidnami is a software tool using which you can create stunning videos very fast and grow your brand awareness. We all know how powerful videos are for generating leads for your business or increasing readers' engagement.
In simple terms, Vidnami creates the video-creation process so easy that any newbie can do it. Yes, you don't need to pay any professionals thousands of dollars for creating and editing videos for you.
Using Vidnami video software, you can also generate more subscribers for your email list, increase your sales, sell your product, offer, or service, and increase your website traffic.
How, you ask? I'll go over all these topics in-depth in this article. However, if you're in a hurry and want to get a general idea of what Vidnami can do for you, watch the video below.
What Kind Of Videos Can I Create?
Whatever your niche is, Vidnami has you covered. You can create sales videos, presenter videos, content videos, Instagram ads, Pinterest vertical videos, Facebook ads, course videos, E-Commerce ads, and much more.

If you are a social media influencer, then you can increase your followers by creating Youtube videos, Pinterest vertical videos, and Instagram ads.
If you are a small business owner who sells products and trying to build your brand, you can create short videos for your products within a few minutes.
As a blogger or a website owner, you can turn your blog posts into engaging videos by pasting a script and Vidnami will do the rest for you.
If you are an affiliate marketer, you can create stunning videos for the product that you are promoting. As videos are more engaging than a lengthy blog post, you'll get more leads and sales. The possibilities are endless.
But I Don't Like To Record My Voice...
Trust me, I feel the same. While some people would prefer to use their own voice for the videos, most of us would like to skip it.
No to worry. Vidnami has got you covered for both scenarios. You can choose to add your own voice, or use any built-in background music. You can also upload a voice track or use the 'Auto-voice' feature.
Auto-voice offers dozens of different male and female voice-over voices with accents from Australia, United Kingdom, and the USA for you to choose from.
Does it sound like a robot? I know this is what you want to ask. The truth is that in my experience, this is significantly better than other software and sounds very natural, which makes it a very good option for pretty much everyone. 
You can use this feature to convert your text to speech, which is really handy for introverts. Moreover, you can adjust the reading speed to your liking.
I'm Intrigued! What other features would I get?
1. Millions Of Built-In Royalty-Free Media
Yes, you read that right, millions! Vidnami offers millions of royalty-free media that you can add to your videos.
You'll have over 112,000,000 high-quality images to choose from, as well as over 790,000 free video clips to customize. Furthermore, you can choose over 125,000 royalty-free music to find the perfect background music for your videos.
This royalty-free media comes from Storyblocks, which would cost you $384 a year, and more if you are a business. With Vidnami, you don't need to pay anything for using these resources.
Besides these, you can also upload your own music tracks, video clips, and images.
2. Proprietary AI Speeds Up Your Video Creation Process
Vidnami has advanced artificial intelligence (AI) that can read and understand any script you enter and selects related images or video clips to illustrate your words.
This automatic process by the AI significantly reduces the time to create a similar video on any other video editing software.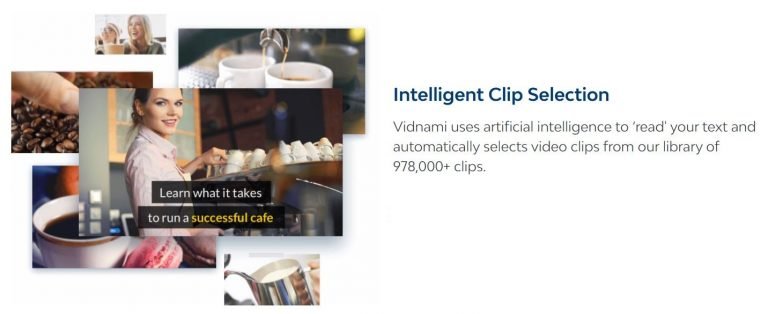 3. Create Your Own Themes
You get access to full theme customization using which you can add your own logos and brand watermarks.
You can include customized background images and different textures. And of course, you can also select different fonts and colors that match your company or business.
4. Unlimited Video Creation at 1080p Full HD
Vidnami allows you to create and download as many videos as you'd like, and that too at 1080p Full HD. This makes Vidnami very popular compared to other web-based software services where you've daily or monthly usage limits.
At present, you can't create 4K videos with Vidnami, but they might include that in the near future. But for most content creators, 1080p would suffice.
And yes, you can also select different sizes to match the recommended video format of different social networks like square and vertical formats.
5. Training Modules And Private Community Support
Vidnami offers a series of video tutorials if you get stuck in a process. Their training videos cover everything you need to know about the software.
The training modules will show you how to create templates, scripts, customized screens, voice training, and much more.
Furthermore, you'll get access to Vidnami's private community on Facebook where you can learn from fellow users, and ask them for any tips if you get stuck.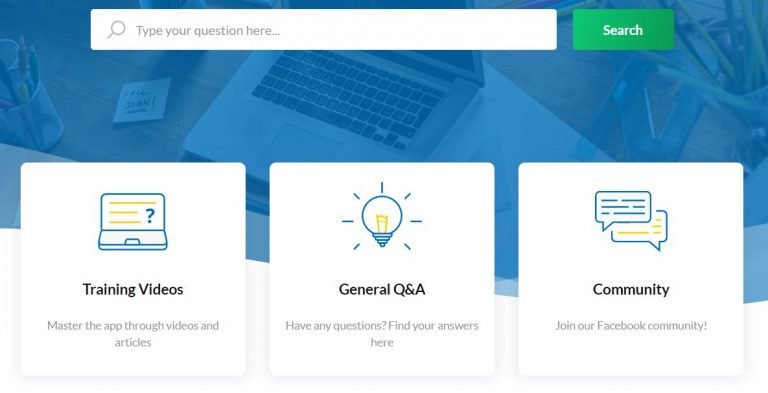 In addition to the website builder, Wild Apricot also offers a website management tool so that users can keep their sites up to date.
Wild Apricot has further developed mobile-friendly themes, which is really helpful if you are building landing pages and driving social media traffic to that page.
Some people do like to appear on camera and give a personal touch to their videos. Vidnami has an integrated webcam recording feature as well.
Using this feature, you can choose Vidnami's 'Presenter Style video' templates and use your laptop's webcam to create a video in minutes.
You can also upload a script beforehand and let Vidnami take care of the details. Vidnami will create the scenes for your video and it will suggest video clips that you can add over your webcam recording to further demonstrate what you're talking about.
How Much Does Vidnami Cost?
The monthly subscription cost of Vidnami is $47.
However, if you opt for the yearly payment of $397, then the monthly fee gets down to $33, as Vidnami offers a 30% deduction on the total price per year.
I would recommend that you first try the software free of cost using their free trial option. That way, you would get an idea and see for yourself whether Vidnami is a good fit for you.
Do I Need To Install Any Software On My PC?
No, you do not need to install any software on your machine to start using Vidnami.
All you need to do is open any web browser, go to vidnami.com and sign in. Simple, isn't it?
Is Vidnami Suitable For Me?
If you are someone who rarely creates video content, then spending money on this software might not be the best option for you. However, if you are a blogger who wants to quickly convert blog articles into engaging videos, I think Vidnami is the best option for you.
Also, if you are a highly professional video creator who wants a lot of editing options, then Vidnami might not be a good fit for you. 
But if you don't want to spend a fortune for creating a video marketing strategy for your website, and want to reach out to a wider audience, and perform content repurposing by turning written content into videos, then Vidnami is definitely suited for you.
The best thing is you don't need to be tech-savvy for using this software, as I'll show you in a demo below. Furthermore, if you are a camera-shy person but want to be a Youtuber, then Vidnami is all you need for your success.
I'm Convinced! Is There A Discount Offer?
Of course! If you're looking for Vidnami discount, then you would be happy to know that I've secured an exclusive 25% off discount which brings down the monthly fee to $35 — instead of the regular $47. 
Just click on the button below and you will be redirected to the checkout page. Moreover, you will receive a lot of added bonuses as well.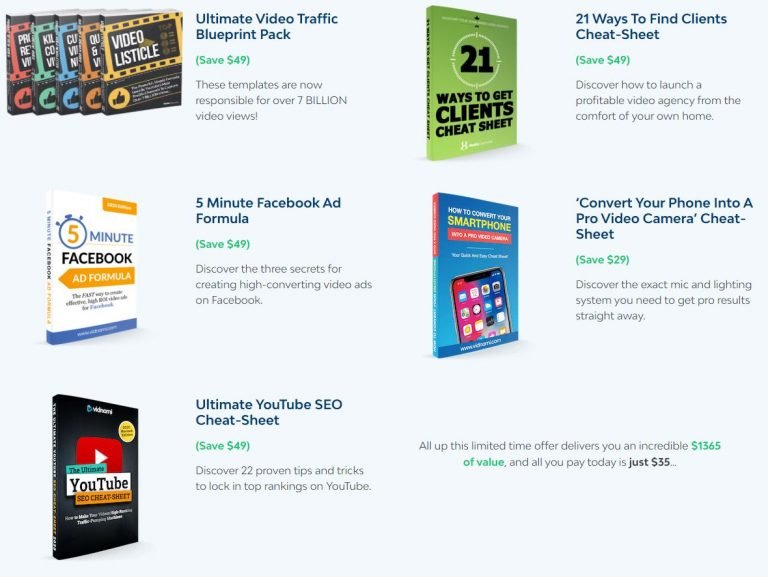 Vidnami Demo: Creating A Sales Video
What better way to see a demo than getting it straight from Vidnami Co-founder, Dr. Anthony. Learn how you can too create a sales video within minutes using Vidnami.
Vidnami is one of the best video creation software tools out there. What I really like about Vidnami is that it is beginner-friendly and makes video creation a lot faster.
You don't need any prior video editing experience, and you can quickly turn your articles into videos with just a few clicks. Also, you get access to a huge library of reusable royalty-free media to customize your videos.
Furthermore, you don't need to install any software and it'll work on every platform or operating system. Vidnami is regularly updated with new features and they have a responsive customer support team.
However, I believe that Vidnami can be further improved by including more video animations like whiteboard, 2D, and 3D animations.
Currently, Vidnami does not have a lifetime subscription plan, which I believe should be included to give users more payment options.
All things considered, I recommend Vidnami to all content creators. It will eventually help in driving more traffic to your website or blog.
The best way to judge Vidnami is by creating a free account yourself. Rest assured, you don't need to enter any credit card details and you can keep all the videos that you create in the trial period.
So start your 14-days free trial and let us know in the comments how was your experience using Vidnami. 
All services that are reviewed on this site are independent, genuine reviews. However, a few of the links are affiliate links and Blogsepaise will earn a small referral fee if you buy the services using those links. It helps to keep the site alive and pay for more services to review without you incurring any additional cost. Check the Disclaimer page for more details.
~ What's your take on this article? ~